Other publications
Last changed: 30 August 2017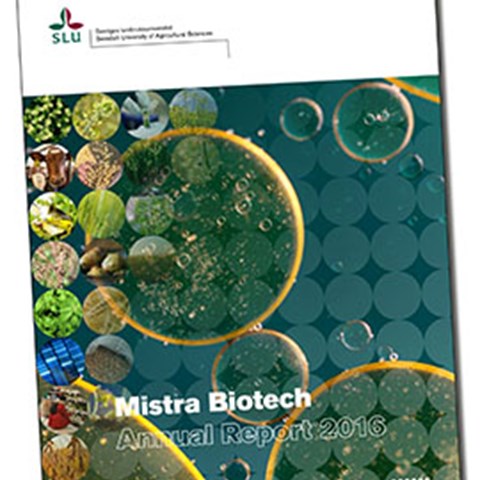 Bertholdsson, N-O. 2017. Fieldtrials with field cress (Lepidium campestre L.) from south to north. Journal of the Swedish Seed Association 2017: 1
Ulén, B. 2017. Leakage trials with field cress (Lepidium campestre L.) in Southern and Middle Sweden. Journal of the Swedish Seed Association 2017: 1
Mistra Biotech Annual Report 2016
Mistra Biotech Report from phase 1, 2012-2016
Ulén, B. 2015. Fältkrassing som fånggröda. Greppa Näringen.
Mistra Biotech Annual Report 2014
Lopes Pinto, F., & Vanhala, T. 2015. Detailed protocol for isolating, cleaning and measuring DNA from Lepidium leaves for RAD sequencing purposes. The Molecular Methods Database.
Ortiz, R., Jarvis, A., Fox, P., Aggarwal, P.K., & Campbell, B.M. 2014. Plant genetic engineering, climate change and food security. CCAFS Working Paper 72. CGIAR Research Program Climate Change, Agriculture and Food Security, Copenhagen, Denmark.
Edvardsson Björnberg, K. 2014. Review of "Miljöetik – En introduktion" In: Salwén, H. Tidskrift för politisk filosofi 18: 25-36
Mistra Biotech Annual Report 2013
Rönnegård, L., & Lee, Y. 2013. Editorial: Exploring the potential of hierarchical generalized linear models in animal breeding and genetics. Journal of Animal Breeding and Genetics 130: 415-416
Sandin, P. 2013. Vilka krav kan och bör vi ställa på genmodifierade livsmedel? Dietistaktuellt 3: 22-23.
Hansson, S.O. 2013. Agricultural biotechnology – the need for less myopic perspectives. Journal of the Swedish Seed Association 2013:1
Lehrman, A. & Alexandersson, E. 2013. Future of Plant Biotechnology in Europe (summary of workshop). Journal of the Swedish Seed Association 2013: 1
Hansson, S.O. & Weih, M. 2013. Busting the myths about GMOs in agriculture. Public Service Europe
Röös, E., Röcklinsberg, H., & Sandin, P. 2013. Om alla gör lite blir steget stort. Upsala Nya Tidning.
Mistra Biotech Annual Report 2012
Weih, M. 2013. Global food security and ecological sustainability. Public Service Europe
Lehrman, A. 2012. Från förädling till konsument. Resurs. 3: 14
---
Contact
mistrabiotech@slu.se
+46 (0)18 672232
---