Urban Wildlife
Last changed: 08 July 2021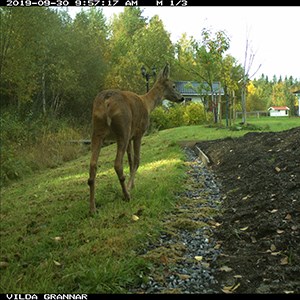 Wildlife populations in Sweden have increased while cities have expanded into natural areas. Furthermore, many Swedish cities have a green infrastructure of forests and parks that allows wildlife to move into the city. As a consequence, there seems to be a rise in urban wildlife - an area scarcely monitored or researched.
In this project, we aim to develop collaborations between wildlife ecologists and municipalities, developing a system to monitor urban wildlife, as well as providing new knowledge that can be used to inform city and landscape planning. We also aim to provide a platform for developing innovative ways to integrate wildlife conservation and experiencing wildlife into city planning. The collaborative project is currently focused on the collaboration between SLU and Umeå municipality, but is intended to grow to include other partners.


Meet your wild neighbours
In this research project, currently funded by SLU Urban Futures, all inhabitants of Umeå municipality have the opportunity to borrow a camera trap from SLU and put it up on their property for one month. The cameras capture all wildlife that moves past, giving an overview of which species are present and when they are active in different parts of the municipality. Please see www.slu.se/vildagrannar (in Swedish) for more information.
---
Contact