Researcher Profiles
Last changed: 02 August 2017
Meet some of the CBM researchers and find out more about their research!
Guest professor: Carole Crumley
She is searching the Past for Clues to the Future
Since 2012 Carole Crumley is a guest professor at the Swedish Centre for biodiversity. Carole Crumley is a founding scientist in the area of historical ecology and has written the first text book in this subject (Crumley, C L, (ed)(1994) Historical Ecology: Cultural Knowledge and Changing Landscapes. Santa Fe: School of American Research.)
Carole Crumley's special areas of interest are epistemology of complex adaptive systems, especially as regards human societies; "Two Cultures" (science/humanities) problems in inter- and transdisciplinary research; integrated global- to local-scale historical ecology; historical climate change; evolution of landscapes; social inequality; social memory; geomatics (e.g., GIS, RS) applications in anthropology, ecology, and planning.
Her research interests focus on Western Europe, where she directs a long-running research project (1975-present), and pursued with her students, in Burgundy, France. The research traces the history of agriculture and industry in a key European region over a three thousand year period, using archaeology, historical documents and maps, ethnography, and environmental data in a GIS database. The project's ethnographic component is large, and is focused on the practice of contemporary agro-pastoralism in the contexts of a rapidly changing global market and a complex regulatory environment (e.g., the EU Common Agricultural Policy, French regulations).
Carole is also Executive Director of the international project Integrated History and Future of People on Earth (IHOPE), which uses a complex systems framework and the tools of historical ecology to integrate knowledge of past human societies with knowledge of past biophysical conditions. This integrated analysis enables modeling old-and-new possibilities for a sustainable planetary and human future. IHOPE is a global network of researchers and research projects; its International Program Office (IPO) is based at Uppsala University in Sweden.
Mike Jones – resilience and natural resource management
2013-09-03
Mike Jones trained as a wildlife ecologist in Zimbabwe and was employed
by Zimbabwe's Department of National Parks and Wildlife Management until 2005. Over a period of 25 years much of his work was focused on large mammal population monitoring, sport hunting management, rangeland ecology, protected area management planning, community based natural resource management and environmental assessment.
Mike began a second career in conservation, leading community based natural resource management programs for different small US based non-profit organistions, working with farmers, foresters and fishermen in a number of countries within southern and eastern Africa. This work also entailed engagement with farmers and ranchers in the United States in various projects that enabled peer-to-peer learning among natural resource practitioners on two continents. The purpose of this work was to improve the capacity of natural resource managers on private land and enable them to share power with central government authorities. The work was founded on experience with Zimbabwe's wildlife devolutionary wildlife policy that had demonstrated the ability of farmers and ranchers to manage their wildlife effectively and develop wildlife production as a sustainable form of land use and livelihood.
In 2009 Mike moved to Sweden where, as a practicing member of the Resilience Alliance, he occupied an unpaid position at the Stockholm Resilience Centre, developing networks of practitioners willing to experiment with the application of resilience science to natural resource stewardship. With its holistic view of nature in the context of complex adaptive systems, models based on resilience theory provide a new and more useful way of understanding and managing change in living systems than previous approaches based on linear models aimed at maximum sustainable yield resource use. Mike has developed resilience practitioner networks in the International Association of Impact Assessors, leads a Resilience Task Force in IUCN's Commission on Ecosystem Management, and is a visiting scholar at the Wallow Mountain Institute in Oregon US, where he works as a facilitator and trainer with a variety of agricultural universities and land management agencies in the application of resilience science to planning and policy processes.
Mike's work at CBM includes facilitating the development of CBM strategy; building strategic alliances with CBM partners; linking CBM scientist to opportunities for international collaborative research; developing an interdisciplinary network of scientists with an interest in the resilience of food systems; and the creation of resilience short courses for natural resource management professionals. Mikes research work is focused on the synthesis of scientific papers for policy audiences.
Post doc: Diana Garavito-Bermúdez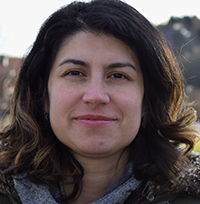 In January Diana Garavito-Bermúdez started her position as a post doc at CBM. Her research is about transdisciplinary knowledge and the development of forms and methods for its production.
Diana Garavito-Bermúdez is a social scientist with a main research interest in informal learning within and about natural environments, as well as its significance for sustainability and sustainable developement. She holds a Bachelor Degree in Biology at Universidad Pedagógica Nacional in Colombia, a Master in Human and Social Sciences at Université Paris Descartes in France, and a PhD in Education at Stockholm University.
Her research at the CBM focuses on transdisciplinary knowledge and the development of forms and methods for its production. Her postdoc project concerns, what knowledge about biodiversity two groups of local users generate through work practices, and how it is influenced by their relationship to nature and to gender.
Post doc: Benedict Singleton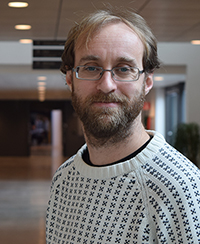 From March 2017, Benedict Singleton, is a post doc at CBM. Benedict is working on the role different experiences of nature play in the social construction of biodiversity.
Benedict Singleton has a diverse research background, having carried out research in Zambia, Jamaica, the UK and, most recently, the Faroe Islands on topics including international development, HIV/AIDS and whaling. His undergraduate degree was in social anthropology at Queen's University Belfast. Subsequently he completed a MSc in international development and management at Lund University and a Ph.D. in sociology at Örebro University.
His work at CBM specifically examines the professionalisation of experience within biological science, in common with trends in other areas of society. In particular, he will examine the growth of the volunteer tourism industry and its relationship to scientific practice with regard to the concept of biodiversity. This research thus draws together literature on bureaucratisation, political ecology and science and technology studies.
Post doc: Patrik Baard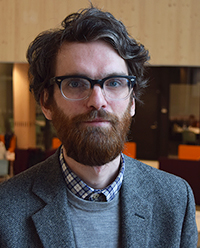 Patrik Baard defended his doctor's thesis in Philosophy at the Royal Institute of Technology (KTH) 2016.
The thesis was entitled Cautiously utopian goals: Philosophical analyses of climate change objectives and sustainability targets and concerned normative reasons to set long term climate change and sustainability goals, what forms of goals that can be set given normative and empirical uncertainty, and when it is motivated to reconsider a previously set goal. His research interests are environmental philosophy, philosophy of risk, and goal-setting under uncertainty.
At CBM Patrik will focus on environmental ethical and moral philosophical discussions on biodiversity. This will form a framework for analysing how biodiversity is valued in policies. He will also investigate the relation between moral obligations and positions of epistemic uncertainty and incomplete knowledge regarding feasibility and collective action.
---
Contact

Page editor: cbm-webmaster@slu.se