Seeing the wood and the trees. Assessing Swedish Nature-Based Integration utilising the theory of socio-cultural viability
Last changed: 02 November 2020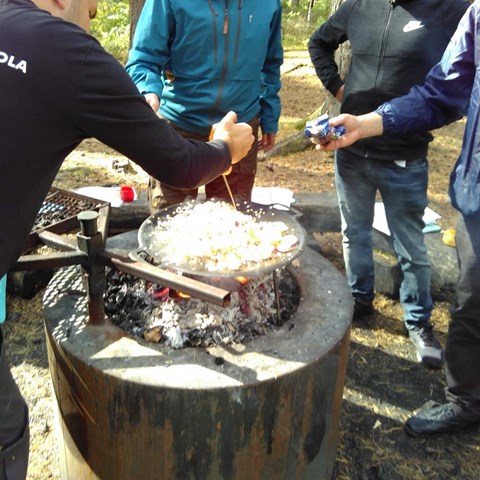 As an increasingly popular, hoped-for solution to migration issues, it is important to interrogate the actual effect of Nature Based Integration (NBI) in practice. This study has highlighted that NBI should be situated in broader institutional contexts in order to gauge the extent that succeed in their aims around people and nature.
Short info
Article: Singleton, B. E. (2020) Seeing the wood and the trees. Assessing Swedish Nature-Based Integration utilising the theory of socio-cultural viability. Fennia 198(1–2) xx–xx. https://doi.org/10.11143/fennia.89965
Author: Ben E. Singleton
Link: https://fennia.journal.fi/forthcoming/article/89965/56870
About the article
Background
Nature-Based Integration (NBI) is increasingly prominent in Nordic countries, mooted as a solution to two perceived issues in contemporary society: the need to 'integrate' groups of newcomers into host societies and increased separation of modern lives from nature. However, to date there has been little exploration of NBI's success or not as an integration initiative. This article makes a first step to do this, drawing on the work of anthropologist Mary Douglas and her collaborators.
Results and methods
Based on fieldwork, this research project combines participant observations of NBI activities with information gleaned from interviews and examination of background documents.
This article utilises the Mary Douglas derived cultural theory in order to examine the group dynamics and related narratives found within observed activities. Utilising the theory's fourfold typology of social solidarities, the NBI observed were characterised as a combination of egalitarianism and hierarchy, with the other two, individualism and fatalism, considerably less prominent. This has consequences for the relevance of NBI to newcomers' lives – the initiatives' 'success' as far as participants are concerned will relate to whether NBI compliment or conflict with institutional narratives in the other, much larger, parts of their lives. The collected data suggest that narratives of individualism are arguably not as prominent in NBI as in the lives of newcomers and Swedes using nature. This article thus represents a first step in understanding NBI's impact in the complex situations newcomers find themselves.
Practical relevance
Members of cultural theory's social solidarities each seek to enact particular discourses on the world, including a perspective on what nature is and what its limits are. This analysis thus highlights the narratives of nature that NBI perform. This is of relevance to determining which NBI practices will contribute to or conflict with biodiversity conservation.
---
Contact

Page editor: cbm-webmaster@slu.se