Nordic network for Communicating Animal Welfare (NordCAW)
Last changed: 06 August 2019
The purpose of NordCAW is to facilitate communication regarding animal welfare between science, authorities, primary producers and a wider public in the Nordic countries.
NordCAW was started by the Animal Welfare Centers in Denmark, Finland, Norway and Sweden. Since then it has expanded to include also other Nordic countries such as Iceland, Faroe Islands and the Baltic states Estonia, Latvia and Lithuania. Its mission is to communicate Nordic Animal Welfare within the Nordic and European hemisphere.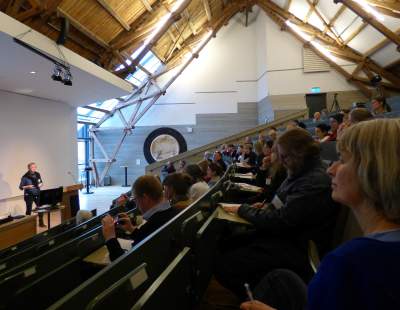 Picture from NordCAW Seminar/Workshop 24 November 2015. Photo: Lotta Berg
NordCAW Seminar 2015
NordCAW seminar/workshop on Communicating Animal Welfare
The 24 November 2015 a seminar/workshop was held at the Swedish University of Agricultural Sciences in Uppsala, Sweden, by the Nordic network for Communicating Animal Welfare (NordCAW) for the Nordic and Baltic countries.
NordCAW received grants for the seminar/workshop from the Nordic Council of Ministers (Nordiska Ministerrådet/MNDD) to initiate a discussion about networking within the Nordic and Baltic countries on all general aspects of animal welfare and how to provide expertise in these areas.
The focus on this seminar/workshop was the different aspects on communication in animal welfare.
NordCAW Seminar 2016
How European Union Reference Centres for Animal Welfare could be organized.
Since 2006 the EU Commission and the Parliament have considered on an establishment of a specific Information Platform for Animal Welfare in order to facilitate dialogue and the exchange of expertise-experience between stakeholders such as consumers, producers, retailers, industry etc.
They have also worked with proposals of new rules regarding the Official Control in the Regulation (EC) No 882/2004 to enter into force in the first quarter of 2017 and to be applicable by 2020. In the revision there are two articles, 95 (Appointment of European Union's reference centres for animal welfare); and 96 (The responsibilities and tasks of the European Union's reference centres for animal welfare). The Commission shall organize EU references centres for animal welfare in member states of European Union.
With this as a background, The Nordic network for Communicating Animal Welfare (NordCAW) hosted a seminar the 1th of December 2016 with the theme "How European Union Reference Centres for Animal Welfare could be organized".
NordCAW Seminar 2017
Joint DCAW and NordCAW Animal Welfare Conference: Consumer-driven animal welfare and animal based welfare indicators
Danish Centre for Animal Welfare (DCAW) and NordCAW hosted a two day conference on Animal Welfare in Copenhagen on October 3 and 4 2017.
Day 1 – hosted by DCAW - focused on how animal welfare is perceived by farmers and consumers as well as specific animal welfare schemes and initiatives both from governments (Danish and German welfare labelling) and industry (Welfur). The way in which these schemes and initiatives may give added value to the product, as well as increased welfare were addressed.
Day 2 - hosted by NordCAW - focused on the application of animal-based welfare indicators in animal welfare assessment and if animal-based indicators can be implemented in legislation. Both practical and legal aspects were covered, as well as the concerns of the citizens and consumers.
(You need to have Silverlight downloaded on your computer.)
NordCAW Seminar 2018
Challenges and actions taken to improve fish welfare in Nordic aquaculture
NordCAW hosted a conference on Fish farming and Animal Welfare in Oslo 15 November 2018.
You can see the program, speakers and abstracts here.
Recording from the conference will be presented here soon.
---
Contact
---

Page editor: josefina.zidar@slu.se