Meet a human resources administrator
Last changed: 19 June 2023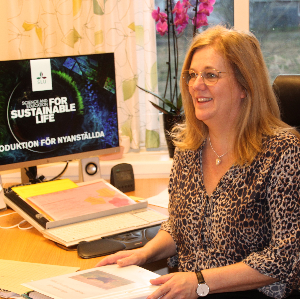 Learn more about what an SLU human resources administrator does. Meet Susanne Lindwall who works at the Department of Animal Environment and Health in Skara.
What is your title and what brought you to SLU?
Today, I primarily work as a human resources administrator, but I am also the administrator of a research project concerning future sustainable dog ownership. I previously worked as an assistant at the now discontinued "Djurskyddsmyndigheten" (animal welfare agency) here in Skara, and I was recommended to apply for my current SLU job through my contacts there.
As a human resources administrator, what do you do? What are your primary duties?
I am responsible for staff administration here at the Department of Animal Environment and Health as well as the Skara site office. I primarily work with recruitments and employments, introductions for new employees, general staff issues as well as work environment issues.
What do you like about your job?
My job is very varying and social. In my role, I meet and get to know many different SLU colleagues. I'm glad to have been given the responsibility of working with staff administration as well as the opportunity to develop my job and knowledge. Additionally, I have the benefit of both living and working in the small city of Skara, which allows me to bike to work. We have a great work environment at our campus – there are many lovely buildings and green spaces that are visited daily by both dogs and horses.
What does the SLU slogan "Science and education for sustainable life" mean to you?
I think it's a very good and expressive slogan that shows that SLU stands for well-thought out and future-driven research and education.
How would you describe what it's like to work at SLU to those who don't know about us?
It's fun to be part of this university that is represented in so many locations in Sweden. SLU feels like a "big, small university", and I get to be part of all distinguished research and teaching that takes place here, despite not being a researcher or teacher.
---
Contact