Interview Bella Rådberg
Last changed: 12 July 2021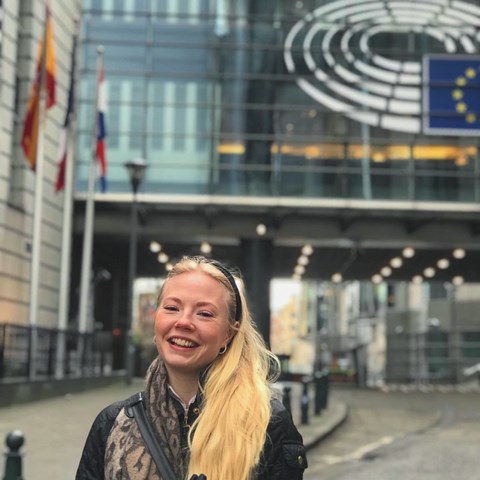 Bella got a chance to do an internship at LRF in Brussels during her studies. It was a fantastic experience she will bring with her in her future career. "My best advice is to be curious and open minded!"
You have just finished an internship at LRF in Brussels. How come you applied for an internship?
I have always been curious of working abroad and figured that an internship would be a good way to try it out! I was also familiar with LRF since before and have interest in many of the question that the organisation works with.
What have been your tasks, what have you been working with?
My primary tasks have been to monitor the EU-parliament, attended and took notes from meetings and seminars. I was also in charge of writing our weekly newsletter - "Brysselnytt".
What have you learned and how has the internship been beneficial for you?
I have learned plenty, especially about the EU-policymaking and how the different institutions works and interconnect. I have also got an insight in the "real" working life and how it is to live and work abroad. I believe that my internship has been beneficial as I now have experiences from working for an large and well-known organisation such as LRF. I also learnt a great deal about lobbying and how it is done.
Does it give a taste for an international career?
Both yes and no! I definitely enjoyed my time in Brussels but as I am very fond of Sweden, I'd rather like to have my base there. I would love to have a job that allows me to travel from time to time though.
What are your advice to someone that is also interested in doing an internship abroad?
My best advice is to be curious and open minded! There are plenty of options if you start to look around. Once you found a few places that feels interesting, try to define why you are interested and why you would be suitable for the position. That will increase your chances to get a spot.
---
Contact