Interview with Professor Le Duc Ngoan
Last changed: 17 September 2020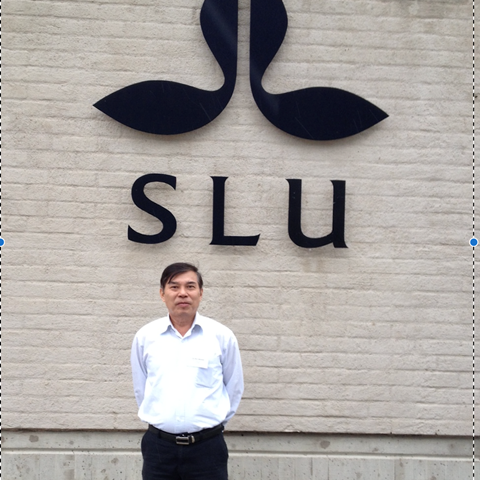 Professor Le Duc Ngoan has been involved in several of the collaborations between SLU and Vietnam and his research has meant a lot to the Vietnamese society and its development. Here you can read about his professional career and research projects.
Please tell us a little bit about yourself and your background.
I am a lecturer of Hue University of Agriculture and Forestry (HUAF) in Hue City, Vietnam.
I was born in January 1953 at Quang Binh Province, Vietnam. I got my BSc degree in animal sciences at University of Agriculture No.2 (now Hue University of Agriculture an Forestry-HUAF) in Vietnam in 1976 and became a teacher at the same University since then.
In 1992-1994, I was the master student at Dept. of Animal Nutrition and Management (HUV) at SLU thanks to a SAREC*-funded project.
In 1997-2000, I was the doctoral student at HUV and got PhD degree in December 2000. After that I have been teaching at the HUAF until now. While working at HUAF, I was selected as Dean of the Faculty of Animal Sciences and Vice-Rector of HUAF.
In 2004 and 2015, I have got the titles of Associate Professor and Full Professor in Animal Sciences, respectively.
How come you have been involved in the collaborations with SLU?
I have been involved in the collaboration with SLU since 1991. At that time, my Faculty of Animal Sciences at HUAF was a one of partners of a SAREC-funded project on integrated farming systems, and I was a junior researcher. This bilateral cooperation project between Viet Nam and Sweden lasted for 10 years until 2000. Thank to this project I have got my scholarships for Master and Doctoral Programmes at SLU.
What projects have you been involved in? What are they about?
As I mentioned I was involved in the Integrated Farming System Project which officially ended by 2000.
Secondly, a new project also supported by SAREC including Vietnam, Laos and Cambodia was established in 2001. The regional project so called Mekong Basin Animal Research Network (Mekarn). The roject lasted for 10 years (2001-2010). In the project, three components were addressed as research (mini project), degree and non-degree training (doctoral and master programmes, short training for researchers and farmers) and networking. Our university was one of the Mekarn partners in Vietnam. I was a HUAF representative.
Thirdly, in 2004, another bilateral Project on sustainable rural development in Vietnam (RDViet) was funded by Sida. This project was coordinated by myself in Vietnam side, and other Swedish partners (Dr. Britta Ogle – 2004-2008, and Dr. Malin Beckman – 2009-2011).
Overall objectives of the project were:
1. To strengthen existing research and teaching capacity in rural development at the collaborating institutions
2. To improve skills and capacity for multi-disciplinary research, designed to analyze rural development and reduce poverty in the rural areas.
Three main activities of the project were:
1. Capacity building, including training at PhD & MSc levels, and MSc Curriculum Development
2. Research on priority RD concerns
3. Networking among institutions involved in rural development research and training (in Vietnam and Sweden).
The project ended in 2011.
How have the research results led to changes in the Vietnamese society?
It is difficult for me to evaluate all the changes in the Vietnamese society but I can tell you that all SLU scientists have now reached senior positions (full or associate professors, rector, vice-rector, faculty dean…) at leading universities in Vietnam.
The SLU scientists have established both professional and friendship networks with the Vietnamese scientists and even though most of the bilateral programmes ended by 2011. These networks still exist and some of the scientists are still in contact with their Vietnamese counterparts.
What are your hopes for future collaborations between SLU and Vietnam?
Firstly, we could continue to develop joint research projects as equal partners with external funding. In this case, both SLU and Vietnamese universities will develop new projects that interest by both sides. A joint peer-review publication could come after doing research.
Secondly, student – teacher exchange and a joint SLU-Vietnam universities' courses for scientists in multidisciplinary research could be a good starting point for continued collaboration.
Finally, as you know, the SLU collaboration lasted almost 20 years (since 1990). A lot of people in our generation at SLU and at universities in Vietnam may be retired, therefore I would like to have a meeting with our partners in order to keep the relationships established in our generation.
*Swedish Agency for Research Cooperation with Developing Countries (SAREC), was a Swedish state aid agency for research collaboration. SAREC was formed in 1975 and in 1979 became an independent authority. In 1995, it merged and became a department within the transformed Sida.
---
Contact