Field research at Röbäcksdalen
Last changed: 11 November 2020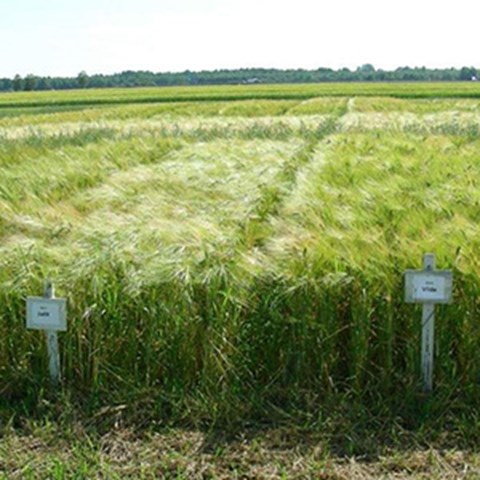 Röbäcksdalen Field Research Station (63.8 ° N, 20.2 ° E) is located 2 km south of Umeå city center, 3 km from Umeå airport and train stations, and 5 km from Umeå campus. The research station is part of the Department of Agricultural Research for Northern Sweden, SLU.
The field research station has been around for almost 60 years. The initiating ceremony at Röbäcksdalen took place on 25th August 1954. The number of experiments has varied throughout the years and peaked with over 500 annual trials on six different locations. Today the number of experiments is around 100 trials per year, at four different locations.
The fields were once the bottom of a sea and have been rising out of the water since the end of the last ice age. The height at the research station today is approximately 12 meters above sea level. The soil at the experimental fields is sandy-silt, which is characterized by good water holding capacity and high capillarity, hence the crops seldom suffer from drought here. The humus content is high (3-6%) which means that the soil is not so dense, something that otherwise might be a problem for this soil type. Sandy soil is present in limited areas.
The research station carries out the official variety trials of forage crops, cereals and potatoes. Several long-term experiments are under the management of the field station, including different fertilization regimes, soil processing, and crop rotations. Individual researchers also have experiments that we perform. We are active in four different locations in northern Sweden. At Röbäcksdalen we manage the station and on the other sites we collaborate with Lantmännen Lantbruk at Lännäs (Västernorrland), Torsta AB at Ås (Jämtland) and Hushållningssällskapet Norrbotten och Västerbotten at Öjebyn (Norrbotten).
The field research station offers:
Ability to perform field research in a variety of areas such as agricultural science, biology, agroecology, soil science and environmental science.
Expertise in Agro-ecological field research.
Access to land, personnel, basic data on soil and climate, workshop, machinery and measuring equipment, lab and offices for research.
Access to the long-term field experiments by studying past performance or to take new, own samples.
---
Contact
Boel Sandström, Experiment Group Leader/Head of Field Research Station
Department of Agriculture research for Northern Sweden, SLU
boel.sandstrom@slu.se, +46(0)90-786 8739

Page editor: malin.barrlund@slu.se