Beehives for studies of honey bees
Last changed: 16 August 2022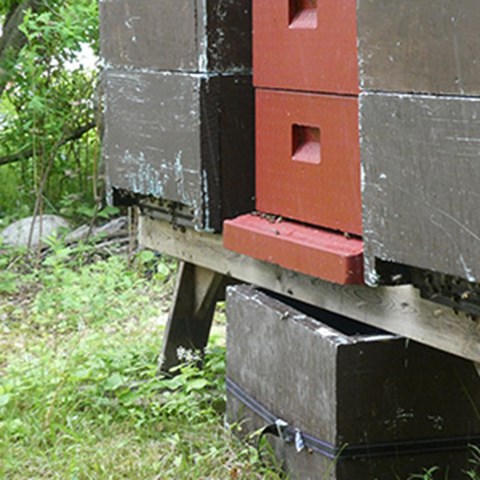 At SITES Röbäcksdalen there are opportunities to study the Nordic bee.
Our bees are a part of SITES (Swedish infrastructure for ecosystem science) and is a resource for national and international researchers who are interested in honey bees. Study possibilities includes single bees and entire hives and we can do samplings of bees, pollen, wax, honey, etc. We can also perform different management strategies.
We currently have three bee hives which are accessible for research. The aim is to increase to five hives until spring 2022. We have the Nordic bee (Apis mellifera mellifera) in our hives. This bee is bigger and has more hair than other bees, it's colour is dark brown to black in thin stripes over the body. The Nordic bee is an old bee species, but is endangered in many parts of the world today.
Some of the most common wild plants for harvest for our bees are salix, raspberry, white clover and lingon berry. Outside of these there may also be cultivated plants (e.g. rapeseed), depending on what research is conducted at the field station.
The honey from the bee hives is harvested on-site. During the winter 20/21 we will produce small jars of honey for sale as an SLU profile product. The jars are made with easy travel in mind and make an excellent gift for visitors.
---
SITES manager
Johanna Wallsten, Researcher/Head of Dept./SITES manager Röbäcksdalen
Department of Agricultural Research for Northern Sweden
johanna.wallsten@slu.se, +46(0)90-786 8716