Teaching
Last changed: 23 April 2021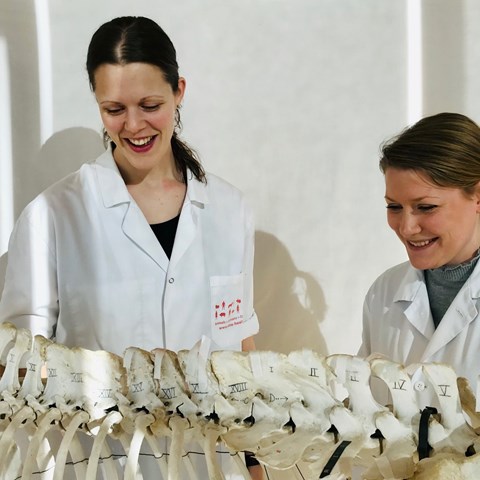 We teach a number of different student groups as well as different professional target groups and the general public.
Teaching at SLU
At SLU, our team mainly teaches veterinary students. The students first encounter us in their theoretical pre-clinical years to learn anatomy of the horse's musculoskeletal system. Later in the veterinary program, during their clinical curriculum, we teach clinical orthopedics, movement analysis and pain evaluation. Finally, we supervise degree projects during the final semester of the veterinary curriculum, with projects supervised by Marie Rhodin, Elin Hernlund and Pia Haubro Andersen.
We also give lectures for animal nursing students/veterinary technicians and animal science students at the Swedish University of Agricultural Sciences.


Teaching different professional groups
Outside of the Swedish University of Agricultural Sciences, we have lectured not only for professional equine veterinarians and animal nursing staff, but also for rider groups within ATG's talent investments and Norway's dressage national team.
Teaching the general public
Finally, we have also presented research for horse owners inside and outside of the university campus as well as various government institutions such as the Swedish Board of Agriculture.



Do you wish for us to hold a lecture on the horse's musculoskeletal system and / or pain evaluation on the horse? If so, please email marie.rhodin@slu.se
---
Contact
Marie Rhodin
Researcher, Senior Lecturer at the Department of Anatomy, Physiology and Biochemistry (AFB)
Telephone: 018-672194
E-mail: marie.rhodin@slu.se