Selection on the Colombian paso horse's gaits has produced kinematic differences partly explained by the DMRT3 gene
Last changed: 22 April 2021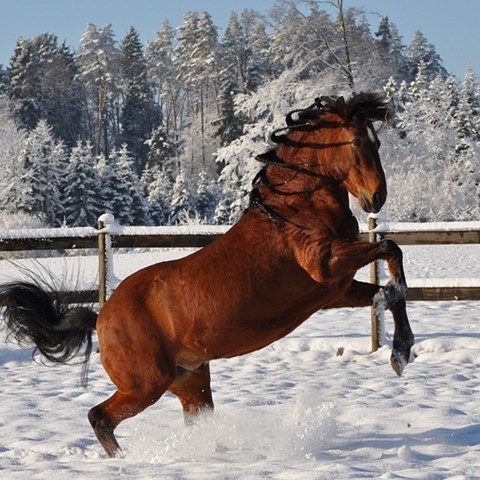 The horse breed Colombian paso is known for having three extra gaits in addition to walk, trot and canter. The gaits are called paso fino, trocha and Colombian trot, with the horses being divided into different breeding groups depending on the gaits they can perform.
Researchers at the Swedish Agricultural University, together with Nordic and Colombian colleagues, have examined the genetic material and the movement pattern of 187 horses of the Colombian paso fino breed. Distinctive differences were discovered between horses in the breed's various gait groups.

Objective motion analysis showed that the gaits paso fino and trocha were most similar. The researchers also found that paso fino was mainly regulated by the DMRT3 gene, a gene that has previously had a known link to movement patterns. However, the trocha or Colombian trot of the DMRT3 gene was not affected.

In conclusion, the study shows that breeding for different gaits at Colombian paso fino over the past 50 years has given clear differences in the pattern of movement between different individuals. The study also shows that Colombian paso fino works very well as a model for detecting genes linked to horse gaits.

The study is funded by Formas, Formas, GeneÂtica Animal de Colombia Ltda. and Colfuturo-Colciencias.
Link to publication
https://doi.org/10.1371/journal.pone.0202584
Reference
M A. Novoa-Bravo, K. J. Fegraeus, M. Rhodin, E. Strand, L. F. García, G. Lindgren. (2018) Selection on the Colombian paso horse's gaits has produced kinematic differences partly explained by the DMRT3 gene. PLoS ONE. doi.org/10.1371/journal.pone.0202584
---
Contact
Marie Rhodin
Researcher, Senior Lecturer at the Department of Anatomy, Physiology and Biochemistry (AFB)
Telephone: 018-672194
E-mail: marie.rhodin@slu.se