Agricultural Cropping Systems – what and how will we cultivate in the future?
Last changed: 19 December 2021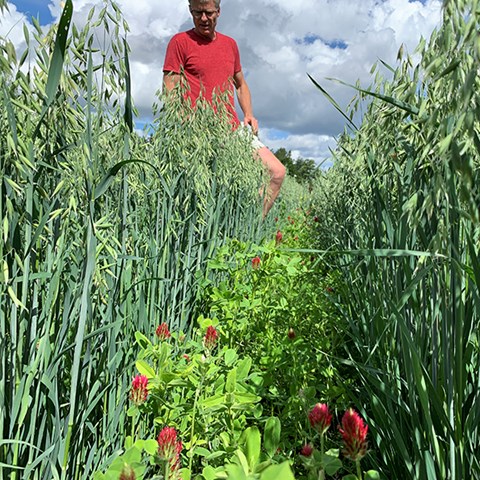 Agriculture provides us with food, feed, fiber and at the same time many other services, for example, pollination, natural enemies and carbon sequestration. Our research goal is the development of sustainable farming systems for contemporary farmers and future generations. To reach that goal we use field trials, experiments in greenhouses, interviews and modeling. Often in close collaboration with farmers in different parts of the world – to make our results more usable and ensure a greater impact on society.
The agricultural cropping systems of the future must be multifunctional and contribute to many products and services. We want good yields while preserving biodiversity, reducing the impact on the climate and increasing soil fertility. Farmers must also get a decent salary and good working conditions. It is also important to include the consumer perspective.
Diversification and global outlook
An important theme in our research is diversification. The aim is to increase variation in the agricultural landscape both in terms of cultivated and wild diversity. We can grow a larger number of crops, use variety mixtures, add more crops to the crop rotation, practice agroforestry, use flower strips...
We have projects in different parts of the world. Sweden and Europe, of course, but also in South America, Asia and Africa. It is a great advantage for us to have an international overview. Not least to find sustainable farming systems that people already use and learn from them.
The crops of the future
The research group also focuses on the crops themselves. We are responsible for the variety testing in Sweden where the goal is to produce new varieties that can tolerate the Swedish climate and are resistant to disease. The quality is equally important. For example, potatoes must be tasty and have good traits when it comes to cooking and storage. We are also researching new crops that are not so common in Sweden today, such as soy and lupin. Old heritage cereal varieties may also have traits that we will appreciate in the future. These include both culinary values and resistance to extreme climate conditions like drought.
Interactions going on in the field
Another important theme is interactions between the crops and the surrounding environment. The goal is to produce a main crop of good quantity and quality and at the same time favor ecosystem services such as carbon sequestration, control of weeds and pests, and biological nitrogen fixation. So, for example, we are investigating the use of subsidiary crops, cover crops, and trees growing together with annual crops. In these complex system we study competition between species, nitrogen dynamics, weed population dynamics, impact on crop yields and crop health and erosion.
Evaluation of cultivation systems
Another focus area is the evaluation of farming systems at field, farm and landscape level. That knowledge is important for planning the farming systems of the future. We use data from field trials, interviews with farmers and advanced statistical methods and models. That makes it possible to take many factors into account - yield, ecosystem services, nutrient content in the soil, management measures and more.
For our research, it is important to have access to data from previous years. The long-term trials are an important resource.
Both organic and conventional
We study both conventional and organic systems. The research questions may differ since the farmers work under different conditions, eg it´s not the same rules for pesticides and fertilizers. However, our research is not limited by today's separation into conventional and organic farming.
The goal of our research is to influence the farming systems of the future. Our results can contribute to legislation, instruments and certification. But we think that our collaboration with farmers and advisers is our greatest contribution.
Read more about our projects and publications at our cv-pages

---
Contact
Ingrid Öborn, Professor


Department of Crop Production Ecology, Agricultural cropping systems