The molecular laboratory in the Ecology building
Last changed: 10 August 2023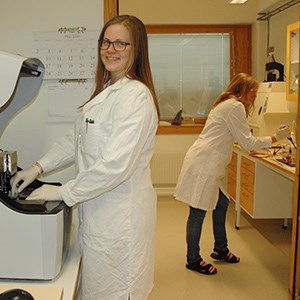 In the Ecology building the Department of Ecology and the Department of Crop production Ecology share a molecular laboratory. The laboratory caters primarily to staff at SLU, but external users are also welcome.
In order to use the lab, a bench fee is charged. The fee covers an introduction to the lab routines and equipment, access to all equipment, maintenance of equipment, basic service and advice from technical staff as well as basic consumables. Project specific consumables (such as DNA extraction kits and PCR chemicals) are paid by the users
The machine park consists of:
3 QIAcubes, extraction robots from QIAGEN with room for 12 samples per run
2 CFXconnect Real-Time PCR machines from Bio-Rad
1 MiniOpticon, 48 well PCR machine from Bio-Rad
1 plate pourer, for up to 400 plates
1 Autoclave, 160 L Laboklav
Sorvall SUPER T 21 Refrigerated Superspeed Benchtop Centrifuge, 4-20°C. Three different rotors with different capacity, for 50 mL tubes or 250 mL tubes.
1 NanoDrop
MilliQ-water machine
GelDoc system for analyzing GelRed stained agarose gels
Heating blocks, small centrifuges, a water bath, pH-meter and equipment for agarose gel runs. There are also a few incubators and warmth cabins of different sizes.
More information
For enquiries to use the lab facilities and for information about bench fees contact the lab manager.
---
Contact
Helena Bötker, Research Engineer
Department of Crop Production Ecology
018-672523 helena.botker@slu.se