Collaboration projects for improvement of annual cereals
Last changed: 06 September 2021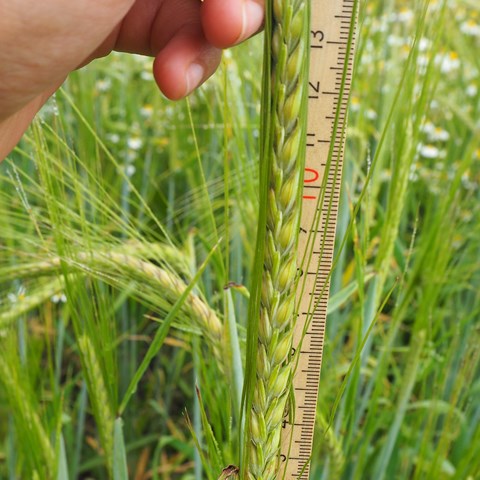 In this projects we are focusing on the development of new annual cereal cultivars for improved fiber content or improved uptake and use of nutrients from the soil.
Yin-Yang genes in breeding of barley and oat
Knowledge of the relatively newly identified genes SUSIBA1 (Yin - repressor) and SUSIBA2 (Yang – activator) regulating the expression of genes controlling starch and fiber production and spike length is used in breeding of barley and oat. The aim is to develop cultivars with high fiber content and long spikes for food production and high starch content, and low fiber content for animal feed.
Collaboration: Chuanxin Sun at the Department of Plant Biology is the coordinator of this project, and together with Sun and Roger Andersson at the Department of Molecular Sciences, SLU, Uppsala I am co-advising the PhD student Silvana Moreno.
Funding: SLU Grogrund – Centre for Breeding of Food Crops, Sweden.
Nutrient use efficiency and root development in spring wheat
Efficient uptake and use of nutrients from the soil by crop plants will improve the production of the cropping systems and at the same time decrease nutrient leakage from fields. By identifying the traits that are important for efficient use of nutrients and by understanding the genetic control of these traits this research will contribute to the breeding of spring wheat with lower negative environmental impact.
Collaboration: Martin Weih, Department of Crop Production Ecology, SLU, Uppsala is the coordinator, and I am a co-adviser of the PhD students Hui Liu and Lorena de Jesus Guardia Velarde involved in this project.
Funding: The Swedish Research Council Formas
---
Contact
Anna Westerbergh
Associated Professor
Department of Plant Biology, SLU
E-mail: anna.westerbergh@slu.se
Telephone: +46 (0)18-67 33 40
CV-page
---
You can read more about our work on the breeding of nutrient use efficiency at:

Weih M, Westerbergh A, Lundquist P-O. 2017. Role of nutrient-efficient plants for improving crop yields: bridging plant ecology, physiology and molecular biology. In MA Hossain, T Kamiya, D Burritt, L-S Phan Tran, T Fujiwara (Eds.) Plant macro-nutrient use efficiency: molecular and genomic perspectives in crop plants. 1st Edition. pp 1-9. Elsevier. eBook ISBN: 9780128112946, Paperback ISBN: 9780128113080
Asplund L, Bergkvist G, Leino MW, Westerbergh A, Weih M. 2013. Swedish spring wheat varieties with the rare high grain protein allele of NAM-B1 differ in leaf senescence and grain mineral content. PLoS ONE 8: 1-11, doi: 10.1371/journal.pone.0059704
Nutrient Efficient Wheat partnership (NEWp): A collaborative research project with focus on early root growth, root to shoot ratio and leaf nitrogen content during grain filling of spring wheat.