Research within Plant Protection Biology
Last changed: 11 June 2019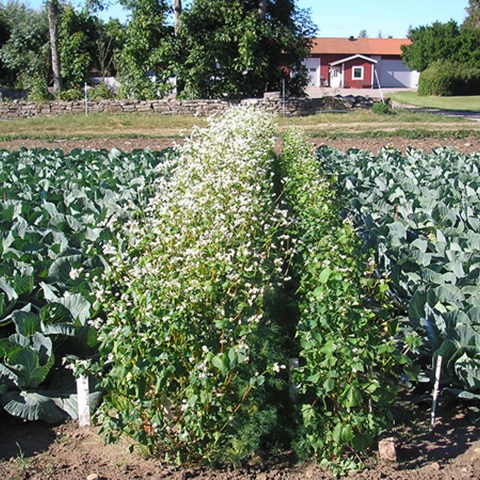 Research around the World!
The Department of Plant Protection Biology is an interdisciplinary constellation with good opportunities for strong research collaboration within and outside the departmental area. Leadingedge research is conducted in resistance biology, integrated plant protection and chemical ecology to develop the understanding and sustainable use and management of biological resources. The research efforts are directed towards both basic and applied research. Applied plant protection research is carried out in collaboration with industry and primarily focuses on the development of environmentally sustainable pest control strategies for agriculture and horticulture, both in Sweden and internationally.
Our strength is the combination of solid basic research and well‐developed applications relating to the need for knowledge, competence supply and innovations in the field of plant protection biology.
Our research is organized within three units:
Resistance Biology
The objective of the Resistance Biology Unit is to meet the future reduction in available chemical fungicides, with particular reference to the influence of climate change causing increased risk for the incidence of plant pathogens. This is done by optimizing the output‐input relationship in agriculture by for example creating a basis for plant resistance breeding and decision support systems. Our research is mainly focused on how plants defend themselves against oomycetes and to some extent to fungal and bacterial pathogens. In addition, we are interested in evolu‐ tionary forces behind interactions between pathogens and plants and how different stress pathways interact in order to create solutions that are stable over time.
Integrated Plant Protection
Food production is facing a number of challenges arising from global changes to the environment and society. The development of sustainable farming systems is necessary to meet these challenges. Integrated Pest Management (IPM) is an ecosystem‐based, interdisciplinary strategy that focuses on long‐term prevention of plant diseases and pests or their damage through a combination of measures such as biological control, chemical control, and cultural practices. Pest control methods are selected and applied in such a way so as to minimize the risks to human health, beneficial and non‐target organisms, and the environment.
Chemical Ecology
The main mode of interaction between living things is chemical. The field of chemical ecology concerns the ethology, ecology and evolution of chemical communication. Our research is focused around basic biological questions, combining our competences in chemical ecology, insect physiology and chemistry. We identify the chemical signals used between animals, plants and microorganisms and describe the physiological and behavioural mechanisms of chemical communication. Our goal is to strategically plan and promote basic research in accordance with societal needs, nationally and internationally. We will apply this know‐how and develop insect control techniques for agriculture, horticulture and forestry as well as veterinary and medical entomology, with the overall aim to develop more efficient, innovative tools and to reduce pesticide use.
---
Contact
---