Externally employed doctoral students within food-related research (LivsID)
Last changed: 11 September 2020
As of the autumn of 2018, SLU has, on behalf of the government, established a program for ten industrial doctoral students in the food area (LivsID). The investment is made within the framework of the national food strategy.
Many interesting projects were proposed by companies and SLU researchers, and unfortunately not everyone was able to get support. After a selection of ten projects, one was added that was funded by the Foundation for Strategic Research, SSF. LivsID comprises a total of eleven projects.
Industrial doctoral students are employed by the company where the project is based. They devote most of their working time to academic research and education. Research is conducted in food-related applied areas.
The doctoral students have been established in their academic working groups and their companies. Through LivsID's activities, they also interact with each other and create a network between academia and the various companies. It already turns out that the program is a great success.
Industry challenges
The food sector in Sweden faces a number of challenges. It is important to produce sustainably and climate-smart, reduce the use of fossil raw materials and reduce food waste. Foods must be healthy and wholesome. The use of antibiotics and herbicides must be minimized while production must not reduce biodiversity. At the same time, Sweden's food industry must be competitive in the international market.
To solve these challenges, highly qualified people are needed who have an excellent ability to solve problems, who can familiarize themselves with different business & community processes, and who have a wide network.
Industrial doctoral students with their extensive academic education and with roots in the corporate world, have great potential to become the leaders of the future in the food industry.
Doctoral project within the program
BioGaia
Production of potent probiotic bacteria
Probiotics have a great potential to prevent and treat diseases in humans and animals, but there is no overall picture of how industrial production affects the probiotic effect. The project will provide answers to how lactic acid bacteria build up their stress tolerance and bioactivity and how different production parameters can be used to design BioGaia's future innovative products.
PhD-student: Ludwig Lundqvist ludwig.lundqvist@slu.se
Academic supervisor: Sebastian Håkansson sebastian.hakansson@slu.se
Industrial supervisor: Stefan Roos sr@biogaia.se


DeLaval
Management of cows with mastitis in automatic milking systems
Many dairy cows suffer from mastitis, which entails costs for the farmer. High cell counts are more common in AMS and lead to poorer milk quality. The big challenge is to give the cow the right treatment and at the same time minimize the need for antibiotics and the risk of antibiotic resistance. Sensors can detect cows with mastitis, but the scientific data on how these cows should be handled is lacking, which this project should remedy.
PhD-student: John Bonestroo john.bonestroo@wur.nl
Academic supervisor: Ulf Emanuelsson Ulf.emanuelson@slu.se
Industrial supervisor: Ilka Klaas Ilka.Klaas@delaval.com


Fazer
Dietary fibre, gut-brain axis and health behaviour
Diet affects our brain via gut microbiota and gut-brain axis, the complex communication system between the gut and the brain. Rye and oats are cereals rich in dietary fibre and polyphenols, components known to affect gut microbiota. Under this project, the effects of fibre-rich bread on gut microbiota and further on gut-brain axis are studied. In addition, health communication and -behaviour over these topics is researched. The project supports the innovation of healthy, personalised food solutions and communication over the health benefits of grain products.
PhD-student: Laura Pirkola laura.pirkola@fazer.com
Academic supervisor: Roger Andersson roger.andersson@slu
Industrial supervisor: Jussi Loponen jussi.loponen@fazer.com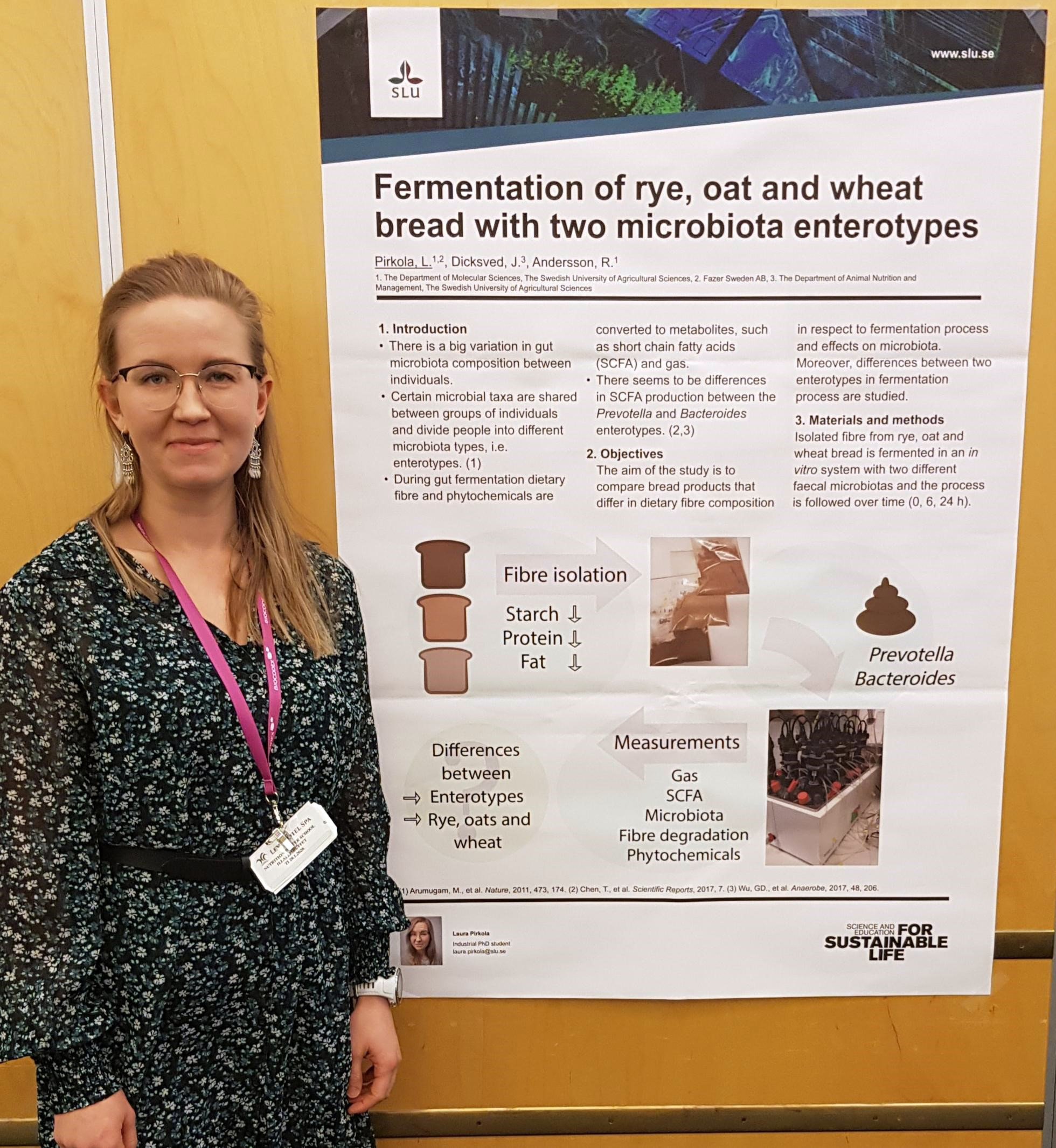 PhD-student Laura Pirkola


Kronfågel
Reduce the number of campylobacter and other pathogenic bacteria in the ready-to-eat chicken
Swedish chicken production is challenged when the demand for chicken increases at the same time as chicken has been linked to disease outbreaks among consumers. In the project, production and slaughter will be studied in detail to find solutions that can reduce the amount of disease-causing bacteria. This will lead to reduced levels of disease-causing and food-destroying bacteria in the chicken. The project will be run by Kronfågel and SLU.
PhD-student: Tomasz Dzieciolowski tomasz.dzieciolowski@kronfagel.se
Academic supervisor: Ingrid Hansson ingrid.hansson@slu.se
Industrial supervisor: Christian Gylche christian.gylche@kronfagel.se


Lantmännen
The feed of the future and the demand valuers of the future for a competitive dairy industry and plant breeding
Increased use of domestic feed is strategically important for a sustainable development of Swedish milk production. The project goal is to contribute to increased knowledge and understanding of the embankment's feed value. We believe that the structure of lignin in different grass plants can explain differences in feed efficiency. Knowledge will be important in the future plant breeding, feed development and in concrete advice to milk producers.
PhD-student: Annie Larsson annie.larsson@krafft.nu
Academic supervisor: Elisabet Nadeau elisabet.nadeau@slu.se
Industrial supervisor: Pär-Johan Lööf par-johan.loof@lantmannen.com


Lantmännen
Wheat flour quality for baking applications
Wheat flour has been studied for a long time and yet its properties are not fully understood. The baking properties of wheat flour are dependent on multiple factors, many of which have only been studied individually. We believe that to get further a more holistic approach is needed. In this project biochemical and rheological factors are combined to find how they contribute to the finished bread. This knowledge is highly requested from the milling and baking industry and can potentially be implemented in wheat breeding as well.
PhD-student: Louise Selga louise.selga@slu.se
Academic supervisor: Roger Andersson Roger.andersson@slu
Industrial supervisor: Christian Malmberg christian.malmberg@lantmannen.com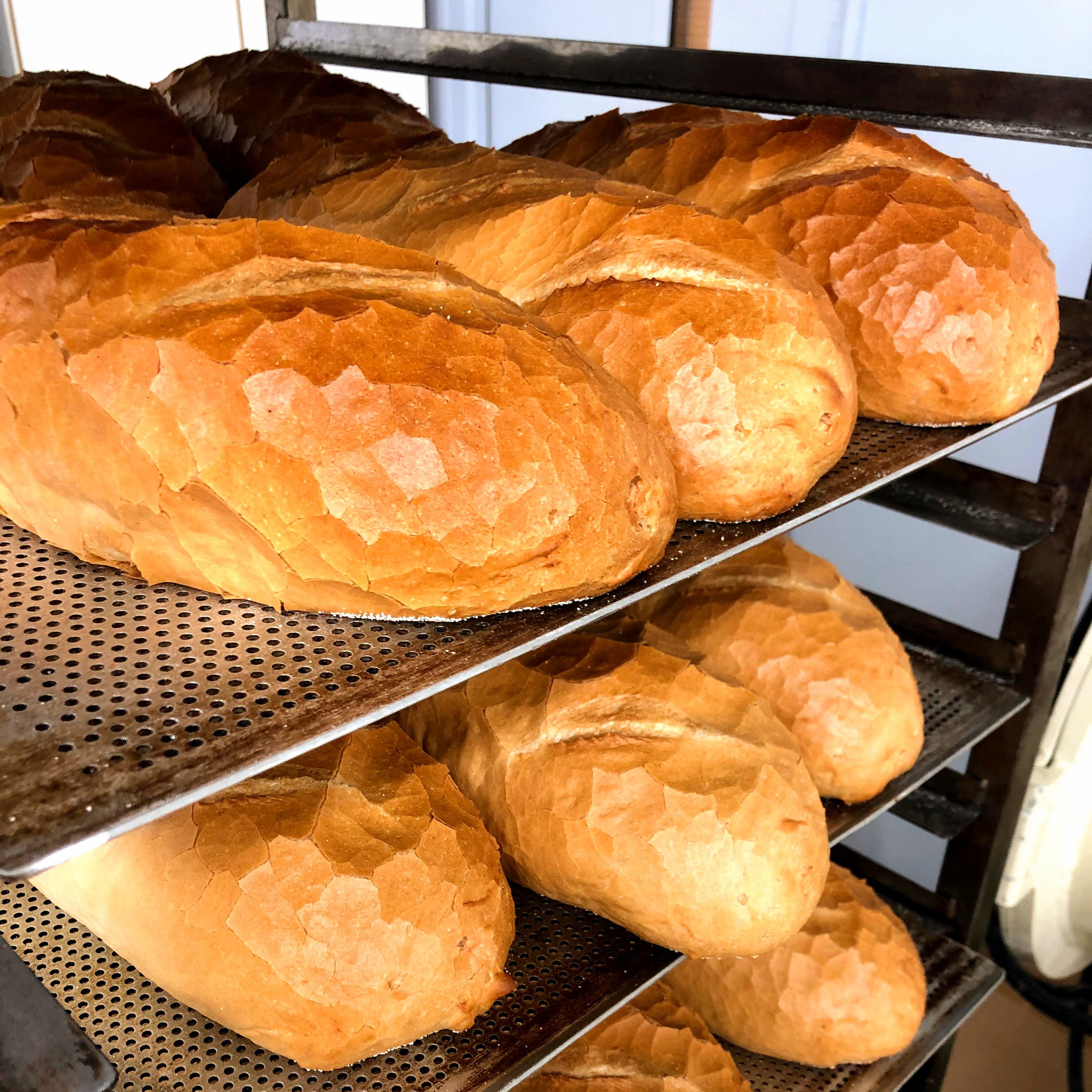 Bread loaves in a bakery.


Nordic Beet Research
Longer storage and less loss in sugar beets
Sugar beets in Sweden can be stored post-harvest in the field from mid-November into early February. The thermodynamics of the storage and the levels of mechanical damage to the beets are major drivers of post-harvest loss and parameters, which farmers can manage. This doctoral project applies controlled trials and system modelling to study these aspects and how they interact with the physiological and management aspects of sugar beet production.

https://www.researchgate.net/project/Best-practice-for-long-term-field-storage-of-sugar-beet-under-Nordic-climate-conditions
PhD-student: William English william.english@slu.se
Academic supervisor: Håkan Asp hakan.asp@slu.se
Industrial supervisor: Joakim Ekelöf je@nbrf.nu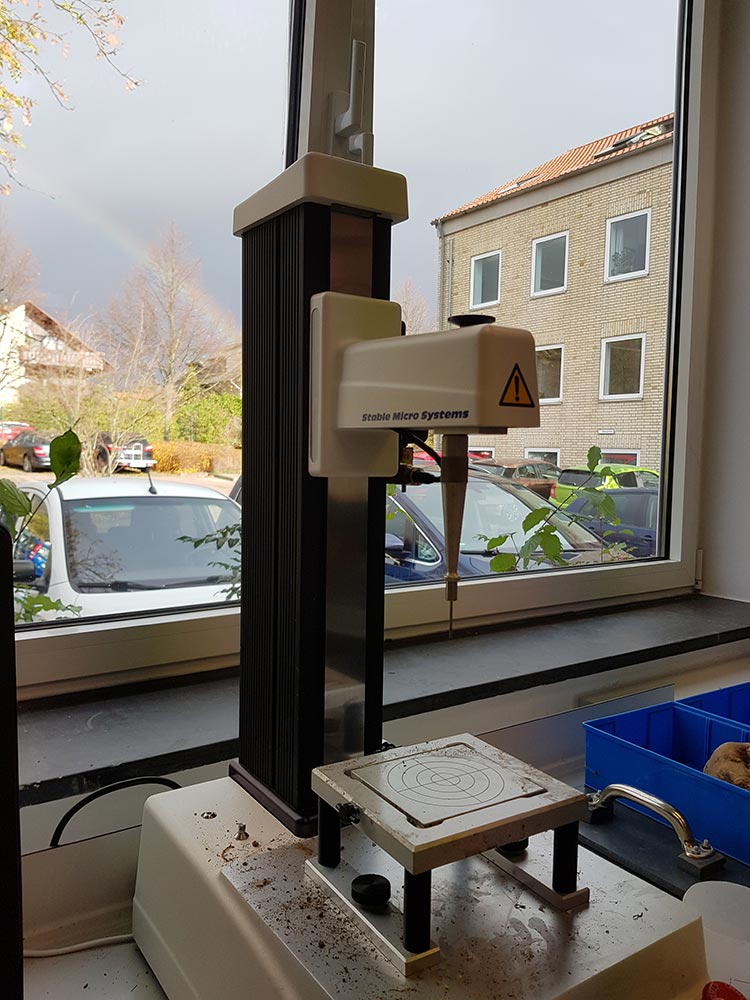 Penetrometer in a lab at IfZ-Göttingen (Germany).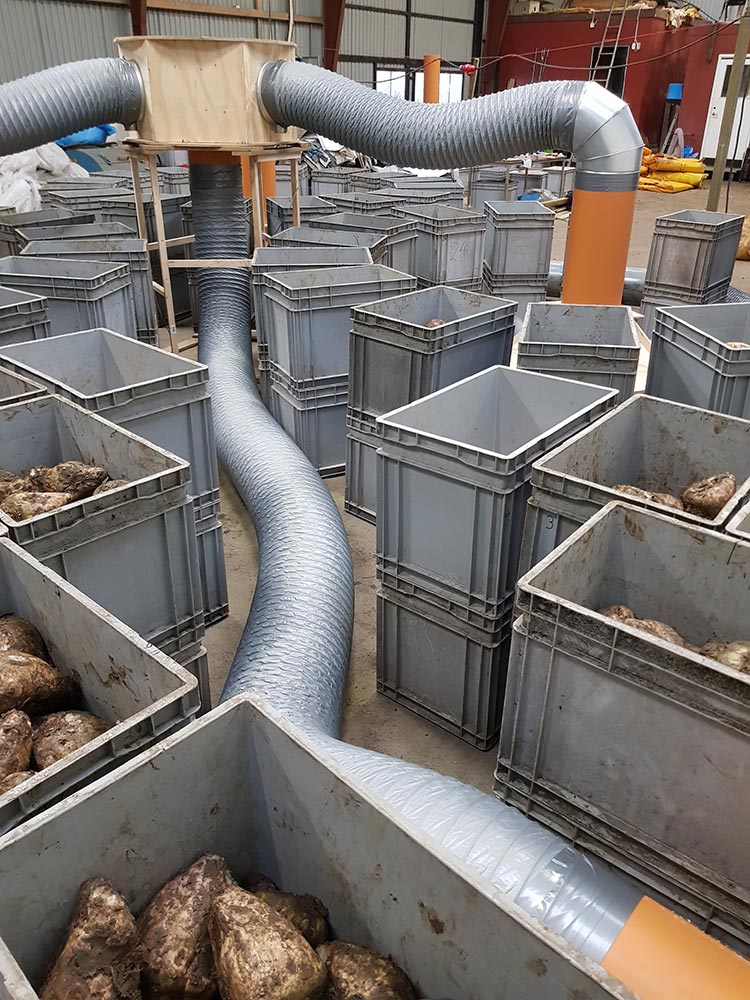 Controlled ventilation trial facility at Nordic Beet Research Foundation.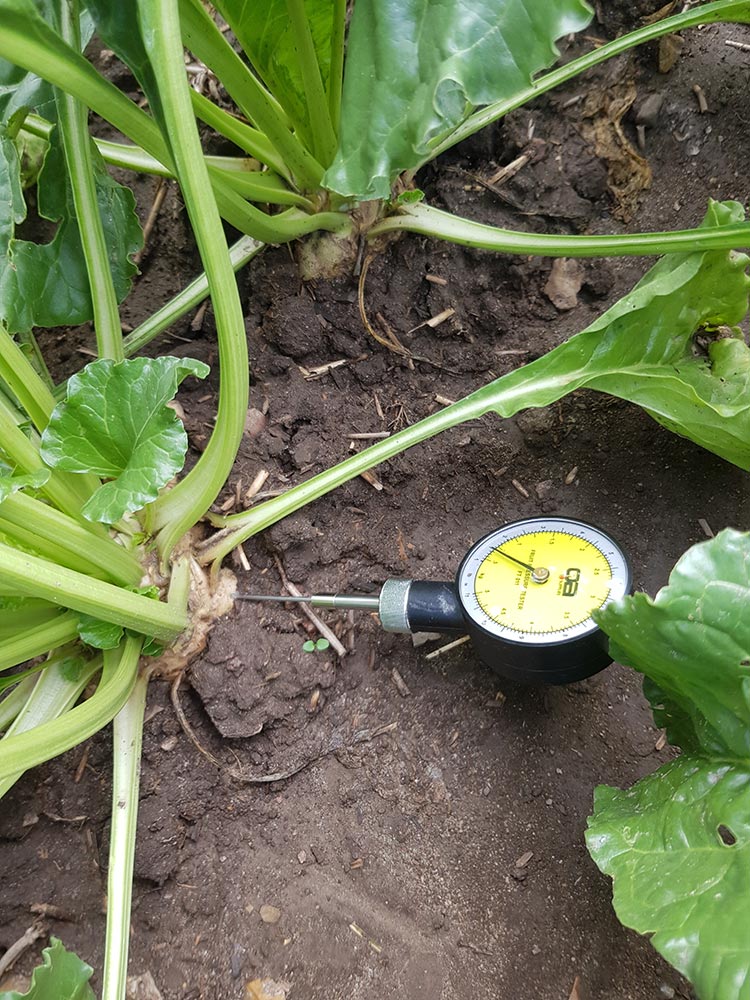 Handheld penetrometer in a sugar beet field.


Norrmejerier
The origin and presence of lactobacilli in the cheese value chain
Lactobacilli are central to the taste development of many aged cheeses. However, how their occurrence and function in dairy raw materials and cheese are affected by various factors on the farm, such as the choice of fodder plants, fodder preservation, stable environment and milking system, has been little studied. In the project, we want to follow the lactobacilli's path from farm to cheese with the goal of increasing the long-term profitability of milk producers and dairies through better quality management throughout the value chain.
PhD-student: Thomas Eliasson Thomas.Eliasson@norrmejerier.se
Academic supervisor: Åse Lundh ase.lundh@slu.se
Industrial supervisor: Karin Hallin Saeden
karin.hallin-saeden@norrmejerier.se


VikingGenetics
DNA-Tinder cow - a program for selection and matching
The project aims to develop an aid for breeding at herd level. DNA information is inexpensive to obtain for individuals and can be used to select recruitment animals. In addition, DNA information can be used to check for the presence of genetic defects and to control inbreeding in the herd. Matching at the DNA level is the main purpose of the project.
PhD-student: Christian Bengtsson ChBen@VikingGenetics.com
Academic supervisor: Erling Strandberg erling.strandberg@slu.se
Industrial supervisor: Jørn Rind Thomasen jorn.rthomasen@qgg.au.dk


Äppelriket – The Apple Kingdom
Swedish apples all year round through new storage technology
Annually, we consume about 110 million kg of apples in Sweden. Only 33% (2016) of them were Swedish and there is great potential for increasing the production of Swedish apples. To succeed in this, more research is needed on the post-harvest period (postharvest). Swedish orchard consists for the most part of unique varieties. These require specific storage parameters to maintain their quality during storage.
PhD-student: Joakim Sjöstrand Joakim.Sjostrand@slu.se
Academic supervisor: Marie Olsson marie.olsson@slu.se
Industrial supervisor: Henrik Stridh henrik@appelriket.se



Activities within the LivsID program
Spring 2020
Although the Corona Pandemic affects more or less all aspects of our daily lives, the doctoral program continues. Some nutrition studies that include tests on consumers had to be postponed. But in these cases, alternative experiments have been performed. Unfortunately, we had to cancel our planned spring meeting and study visit to Viking Genetics to avoid the risk of the virus spreading. We will probably not be able to meet in person in the autumn either, but we will have our annual meeting online.
Despite all the difficulties, we already have our first important results in the LivsID project: the first two publications! Congratulations to Christian Bengtsson (Viking Genetics) and Ludwig Lundqvist (BioGaia). Of course, the congratulations also include the industrial and academic supervisors.
There are also many activities in the other projects. In some cases, extensive sample collection is required to obtain the first publishable results.
We look forward to the part-time seminars for the projects, which will probably take place from autumn 2020 to spring 2021.
Publications
Bengtsson C, Ståhlhammar H, Eriksson S, Fikse WF (2020) Association of genomically enhanced and parent average breeding values ​​with cow performance in Nordic dairy cattle. Journal of Dairy Science 103, 6383- 6391. https://doi.org/10.3168/jds.2019-17963
Forsberg MM, Björkander S, Pang Y, Lundqvist L, Ndi M, Ott M, Buesa Escriba I, Jaeger MC, Roos S, Sverremark- Ekström E (2019) Extracellular membrane vesicles from Lactobacilli dampen IFN-g responses in a monocyte-dependent manner. Scientific Reports 9, 17109. https://doi.org/10.1038/s41598-019-53576-6
October 4, 2019 - Annual meeting in Alnarp
For our first annual meeting of the program, we gathered on October 4 at SLU's campus in Alnarp. The doctoral students presented their projects and the participants got an overview of the development of research within LivsID. Mats Larsson presented food-oriented research within Lantmännen - one of the large food companies in Sweden and a partner within LivsID.

October 3, 2019 - Visit to Äppelriket in Kivik
On October 3, we made an excursion to Äppelriket, which is an association of several small and medium-sized producers. They share a logistics solution such as transport and storage. We visited an apple plantation and got a good picture of the modern apple production in Sweden. Apples must be handled carefully, in order to minimize the risk of infection with fungi already in the field and during the harvest.
Later we got to see the packing station of the apple kingdom. Much of the industrial doctoral project at the Apple Kingdom, which Joakim Sjöstrand is involved in, is about packaging and storage. One of the biggest challenges in apple production is storage, so that apples can be sold long after harvest.
The excursion ended with a visit to the apple market in Kivik where much of the apple and fruit cultivation from Skåne was shown. Of course, you could also buy local products. The apple painting - a work of art that is produced annually only from apples from the region - was interesting to see.

May 22, 2019 - Visit to DeLaval
On May 22, we visited DeLaval's facility in Tumba. We got an insight into their history and views on food production, production of the milking robots and their use on Hamra farm.
We also received a presentation from industry doctoral student John Bonestroo at DeLaval about his project and from the industry partner's supervisor, Ilka Klaas, about how the project interacts with the development of the entire company. The project is about developing a smart decision & support system based on sensor technology to identify the risk of the cows developing mastitis. A good and early risk assessment can help farmers use the right treatment and reduce costs during production. It can also reduce the use of antibiotics in animal production.

September 27, 2018 - Kick-off
On September 27, a kick-off was arranged as the starting shot for the LivsID program.


Selection process, agreements, finances and other formalities
General overview
The new industrial doctoral students in the LivsID program focus on projects and issues initiated by companies, organizations, authorities and other stakeholders in the food area.
The doctoral students are employed by their employer and engage in regular work assignments of 20 percent during their doctoral studies at SLU. The doctoral studies are conducted for five years at 80 percent starting in the autumn of 2018.
30 applications were received in the autumn of 2017 and of these, 22 were invited for further presentation at a seminar on 6/12. Decisions on which 15 went ahead in the selection process were made on 15 December.
Of the 15 proposals, ten have been judged to best meet the criteria. The assessment was made by SLU's collaboration group in the food area with faculty representatives from the NJ, VH and LTV faculties. The same criteria were used as in previous assessments, but this time with a greater focus on the individual study plan.
Agreements and finances
Before the projects began, the details of finances, rights, organization, supervision, work environment responsibility, etc. were regulated in an agreement between the companies and SLU. The doctoral student's employer receives a grant from SLU of SEK 500,000 per year for three years as compensation for the doctoral student's participation in SLU's research on the doctoral studies conducted to the intended extent and according to plan.
Costs for main supervisors at SLU and up to SEK 20,000 per year for overheads in the form of trials and laboratory work, etc., premises at SLU and office base services are covered by SLU.
Costs for travel, allowances, conference fees, course fees, etc. are covered by the employer within a framework that will be determined in the agreement.
Immaterial rights
The management of the intellectual property rights for the research results, e.g. copyright and patent law, must follow current rules in the labor market and within universities. Any deviating details and clarifications will be regulated in the agreement.
Supervision and organization
SLU provides the main supervisor and at least one assistant supervisor. The employer must provide at least one party supervisor (who can be an assistant supervisor if he or she has a doctoral degree). Both parties provide for the dissertation project necessary equipment, infrastructure, etc. Scope, etc. specified in the agreement.
The doctoral student's interests both in the regular workplace and in the doctoral program are discussed and taken care of by a group consisting of the doctoral student, the main supervisor, the head of the department where the doctoral student is admitted to the doctoral program, the immediate manager of the regular workplace and the director of studies for LivsID (convener). Where relevant, the doctoral students will be linked to the national graduate school LiFT.
Collaboration between research at SLU and the employer shall be developed as far as possible during the doctoral education period. The industrial doctoral student shall not have the main responsibility for developing the dialogue, but it shall lie with someone else at the employer together with SLU's director of studies for LivsID. The activities are aimed at other employees of the employer.
News

The first publications are out now! Congratulations to Christian Bengtsson and Ludwig Lundqvist, their supervisors and the whole team!

Bengtsson C, Ståhlhammar H, Eriksson S, Fikse WF (2020) Association of genomically enhanced and parent average breeding values ​​with cow performance in Nordic dairy cattle. Journal of Dairy Science 103, 6383- 6391. https://doi.org/10.3168/jds.2019-17963
Forsberg MM, Björkander S, Pang Y, Lundqvist L, Ndi M, Ott M, Buesa Escriba I, Jaeger MC, Roos S, Sverremark- Ekström E (2019) Extracellular membrane vesicles from Lactobacilli dampen IFN-g responses in a monocyte-dependent manner. Scientific Reports 9, 17109. https://doi.org/10.1038/s41598-019-53576-6


Interview in the Yearbook 2018 of the Department of Animal Breeding and Genetics
Read the interview on page 14 with PhD student Christian Bengtsson at VikingGenetics.
Facts:
---
Frågor besvaras av
Volkmar Passoth, Professor
Professor at the Department of Molecular Sciences; Food biotechnology

Volkmar Passoth is the administrator for LivsID.
---

Page editor: rebecca.rikner@slu.se