Facts:
The jersey breed has answers to many of the challenges Uganda is faced with such as:
The Jersey (identified by black nose, white muzzle and round curios eyes) has a small body size that is good for sustainable agricultural intensification by farmers with small land size. The small body size makes it is easier to handle by women, children and the elderly
Jerseys are more efficient milk producers meaning they give higher profits or require lower inputs per liter of milk produced compared to other exotic dairy breeds. Jerseys will require much less feed, and will not be selective with the type of feed given, hence able to transform various types of feed into milk than any other breeds of cattle.
Jersey milk is of higher milk quality in terms of butter fat, protein, color and flavor, than other exotic breeds
Jerseys have high fertility, calve with ease with a low occurrence of obstructed labor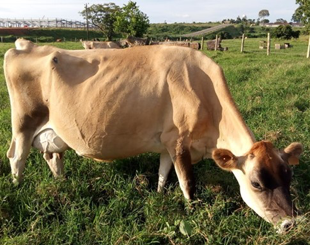 Jersey cow at LES, Entebbe. Photo by Maria G Nassuna-Musoke.