Detection and removal of contaminants in drinking water examined in new thesis
Published: 21 January 2021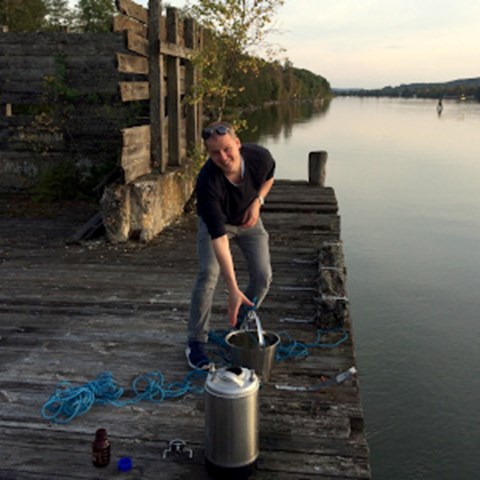 The results from a new thesis that examines methods for assessment and removal of contaminants in drinking water can help improve drinking water quality worldwide.
Thousands of synthetic chemicals are currently in use. One concern is that some of them can end up in lakes, streams and groundwater that are used for production of drinking water. A wide range of common chemicals can potentially pose problems for drinking water producers, for example, pharmaceuticals, pesticides, per- and polyfluoroalkyl substances (PFASs), drugs, flame retardants, food additives, personal care products and industrial chemicals.
In a new doctoral thesis, Rikard Tröger has studied the efficiency of techniques for removing unwanted substances from drinking water, and sought to develop broad and accurate analytical techniques to measure a wide range of contaminants. The aim was to improve understanding of the occurrence and removal of contaminants in raw, process and drinking water.
A broad target screening method was developed to investigate the status of Sweden's most important water source Lake Mälaren, and a drinking water treatment plant in one of the lake's tributaries. The method was then refined and used in a field study of several drinking water treatment plants along Sweden's second most important water source, river Göta Älv. In total, 27 different contaminants were detected in raw water, comprising seven PFASs, eight pharmaceuticals, seven pesticides and five other contaminants. The number of detected contaminants in drinking water varied from 17 to 22, and the concentrations were generally low and did not exceed limit values.
A tool for creating relevant suspect lists was also developed. The tool was shown to be successful in detection and identification of relevant, novel contaminants, and it can be useful for broad-scope screening of less well studied contaminants.
Defence and thesis
On 22 January, Rikard Tröger will defend his thesis Occurrence and removal of organic micropollutants in drinking water: Analytical approaches for wide-scope screening of contaminants of emerging concern.
Read more about the thesis defence and the possability to attend using Zoom.
---
Contact

Page editor: vattenmiljo-webb@slu.se