Could insects be suitable food during long space travel?
Published: 02 December 2021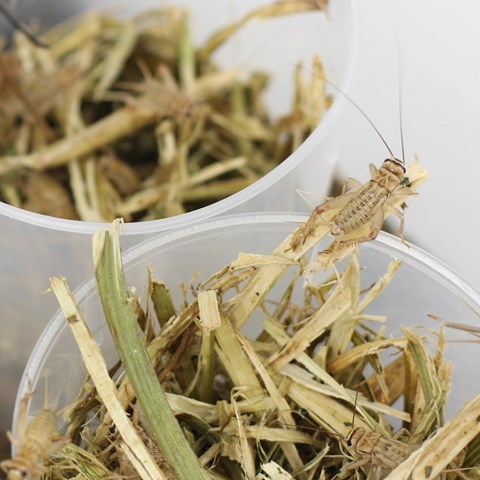 There is a challenge to supply astronauts with enough nutritious food, especially during prolonged spaceflight or future planetary missions. Using insects to produce human food from waste is an interesting solution to this problem. Swedish University of Agricultural Sciences (SLU) researcher Åsa Berggren has received funding from the European Space Agency (ESA) to examine the potential of insects
"This is a really exciting project. We believe that some insects may be able to supply the nutritional demands needed by humans in space. We see insects as part of a food chain, where they are fed bi-products or waste from other processes on the spaceship, to produce a good source of protein for the astronauts. What we don't know is how insects will react to the different environmental conditions they will encounter in space", says Professor Åsa Berggren, SLU.
Examine current knowledge
She is leading a group of researchers from different specialist fields across Europe. They will examine current knowledge relating to insect ecology, physiology, radiation and gravity. It is important that the insects would remain healthy and that they can also reproduce under the conditions found in space. Other questions that will be examined are how suitable the nutritional profiles of different insects are and how food quality might change during travel.
SLU´s research on insects as food
For many years SLU has been carrying out research on how insects can be reared for food in a sustainable way on Earth. Insects are being considered for this project because many are nutritionally suitable and they convert their feed efficiently to growth. In other words, they produce more food per feed they get compared to traditional livestock animals. A central question is whether the insects can be reared on things we can't eat, like agricultural bi-products. This question becomes even more crucial when considering using them in a spaceship or for planetary colonisation. In such places, a sustainable circular system has to work.
"We expect that our work will give us a good indication whether insects are suitable as food in space programs. It will be tremendous fun to work with other leading researchers in an area that is still largely unknown", says Professor Berggren.
Work on this project is just beginning and the first results are expected to be released at the end of 2022. Updates from the project will be published on www.slu.se/foodinsects
Contact

Åsa Berggren
Professor in Ecology, SLU
asa.berggren@slu.se, +4618-672344
www.slu.se/cv/asa-berggren
---
Contact