SLU is introducing stricter environmental requirements
Published: 01 February 2021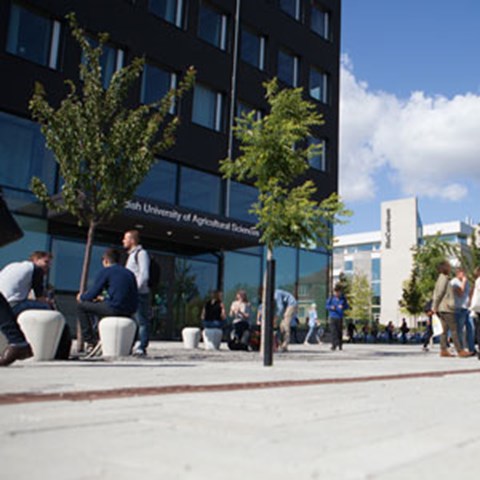 A sharp decrease in air travel is one of five new measures to be implemented at the Swedish University of Agricultural Sciences in a bid to reduce the university's environmental impact.
All activities at SLU involve creating and sharing knowledge about sustainable systems and responsible use of natural resources, and so the university has now taken a further step in its environmental work.
"We want to reduce our environmental impact in line with the Paris Agreement, while pursuing world-class activities. This is not always easy and can result in many conflicting objectives. Consequently, we have now taken some progressive decisions," says Maria Knutson Wedel.
The new decisions affect five areas. They are environmental objectives for education, environmental monitoring and assessment, emissions from business travel, energy production and savings, and guidelines for food purchases. Furthermore, the objectives tie in with SLU's new strategy in which sustainability is one of three focal points.
"We have created an action plan that gives us a concrete to-do list that outlines who will do what, the steps we can take to ensure our infrastructure supports working life with less air travel, how our culture can promote this, and finally, what actions we need to take if we still have to fly," says SLU's Environmental Manager Johanna Sennmark. However, this is not so easy. The air travel we have conducted so far is usually justified. Now is the time to think anew.
Business travel
By 2025, SLU will have reduced its total fossil-fuel emissions from air travel by 60 per cent compared to 2019 per full-time equivalent. This could be the equivalent of a 90 per cent reduction in domestic flights and 50 per cent reduction in international flights.
Education
Integrate sustainable development into all programmes (100 per cent) by 2025.
By 2025, course evaluation reports should score an average of at least 3.5 (of a possible 5.0) in response to questions regarding the extent to which sustainability has been integrated into education.
Environmental monitoring and assessment
One of SLU's general environmental objectives is to increase the amount of data generated through SLU's environmental monitoring and assessment used by national decision makers, public authorities, researchers and the general public.
Data must be accessible, usable and quality controlled and ensure security-related integrity.
In 2015, SLU implemented an environmental monitoring and assessment objective. In conjunction with the extension of the objective, the rate of compliance will also be increased from 80 to 90 per cent.
Additional environmental objectives have been established in the following areas:
Energy
See news article about the new environmental objective for energyproduction and savings.
Guidelines for food purchases
See news article about the SLU guidelines for food purchases.
More information
Johanna Sennmark, Environmental Manager, SLU
018-67 15 85, johanna.sennmark@slu.se
Magnus Nelin, Press Officer, SLU
073-807 88 90, magnus.nelin@slu.se
---
Contact