Water researcher is awarded for the best PhD thesis
Published: 08 November 2022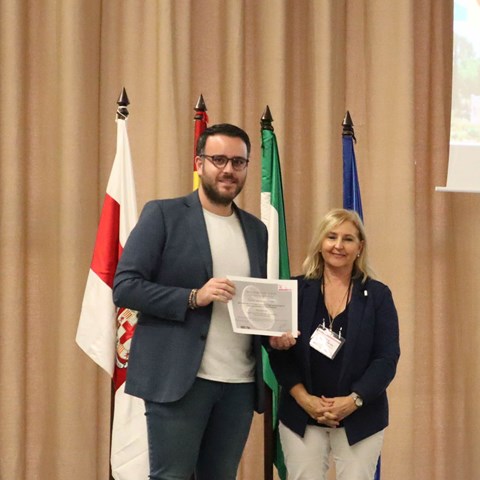 Alberto receives the prise. Photo by: Spanish Society for Chromatography and Related Techniques.
Alberto Celma, who did his dissertation in Spain in 2021, has been awarded a prise for his PhD thesis on improving screening techniques that are used to detect known and unknown substances in water. Alberto is currently employed as a postdoc at the Department of Aquatic Sciences and Assessment, SLU and his research is directed towards the identification of contaminants of emerging concern in stormwater.
The prise Alberto received was awarded by a national organisation in Spain, the Spanish Society of Chromatography and Related Techniques. Theses work involving method development and use of any chromatographic technique was considered in the search for the best thesis. As this is the first time the organisation awarded a PhD thesis, Alberto feels indeed honored to receive the award. He comments:
- I did not expect to receive this award, so I was very surprised when I won, says Alberto. For me, it is not so much the prise itself as the work on my thesis being noticed and recognised.
About the thesis
Alberto's thesis focused on finding new ways to process data for faster and more confident results. Screening strategies are usually a time-consuming process that might not provide reliable data. Newly developed tools, however, are able to increase the sample throughput and confidence of the data. This is what Alberto has developed through his thesis work. He and others are now able to work more efficiently with detection of contaminants of emerging concern in water.
Here at SLU, Alberto works on a number of different projects to refine both screening techniques and workflows to be able to find find unwanted chemical substances in water. New types of collaborations provide new types of data to learn more from. One example of his work at SLU is the SAFESTORM project, which aims to increase knowledge about pollutants that slip through stormwater dams and therefore have a negative impact on water quality downstream.
---
Contact
---
Links: