How agriculture can get fast and reliable information about concentrations of elements in arable land
Published: 18 May 2022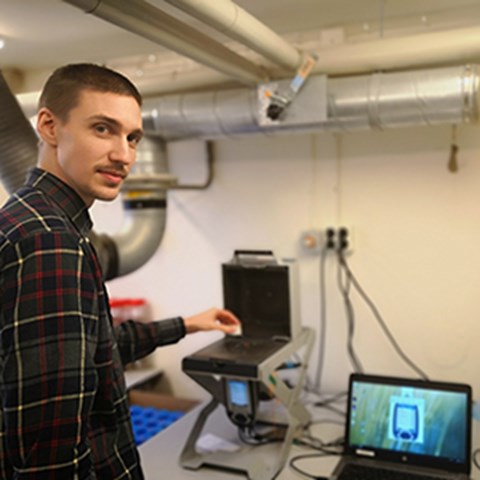 In order to fertilize correctly and reduce the risk of undesirable concentrations of elements in food production, good methods are required for measuring and mapping elements in arable land. A new doctoral thesis from SLU shows that portable X-ray is a good complement to the expensive and time-consuming lab analysis, and that digital soil mapping functions as a good complement to conventional soil mapping.
Soil contains elements that plants need to grow normally. Too much or too little of these elements can be harmful to plants and to us ultimate consumers. Some elements are also more harmful than others. Excessive concentrations of the element cadmium can, for example, contribute to osteoporosis and an increased risk of cancer. Therefore, it is important to have knowledge of and map the concentrations of various elements in arable land.
Possible to estimate the content of an element via other elements
The most common way to measure the concentrations of elements in soil is by analysing soil samples in the lab. An easier and cheaper alternative, however, is to use portable X-ray. Portable X-ray, or portable X-ray fluorescence (so-called PXRF technology), functions by "shooting" X-rays at a sample and then recording the wavelengths of the returning energy.
Karl Adler, phd student and author of the doctoral thesis, has used machine learning (advanced statistical models) and national soil data with portable X-ray to estimate the content of the necessary elements zinc and copper, as well as the harmful element cadmium in Swedish arable land.
-It's a fairly new way to use portable X-ray. In my thesis we show that it is possible to estimate the concentrations of a certain element in the soil based on other elements. The method can thus estimate the amount of, for example, copper without actually having measured how much copper there is in the soil, says Karl.
Good complement to lab analysis
In the thesis, Karl has compared the results from soil sample analyses in the lab with analyses from portable X-ray to study how good the different methods are in relation to each other.
-The results were just as accurate with portable X-ray as with lab analysis when we estimated the zinc concentrations. We got slightly worse accuracy for copper and cadmium, but good enough to be useful. These are very promising results that can be of great benefit in agriculture. It can work as a good, cheap and effective complement to lab analysis, says Karl.
The results also pave the way for data from portable X-ray to be included in national soil databases, which would provide more opportunities in both agriculture and research.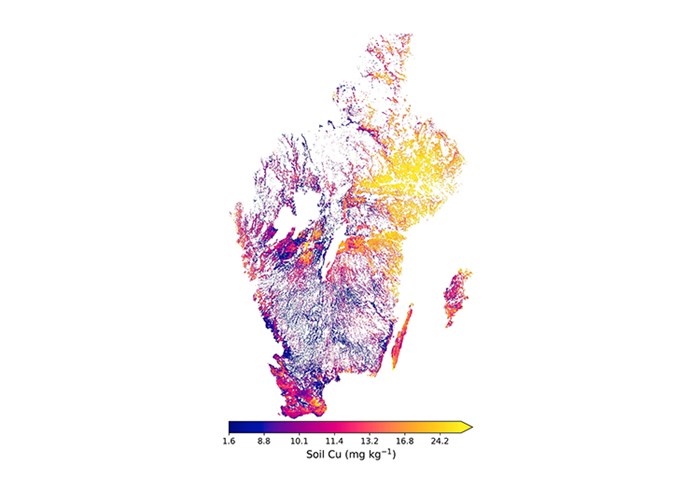 Digital soil maps guiding in agriculture
Karl also developed and assessed digital maps of the amount of copper in Swedish arable land and the amount of cadmium in arable land in Skåne County (the very south of Sweden). The maps serve as a basis for decision support in agriculture.
Soil or crop sampling and laboratory analysis are usually used to develop soil maps, but Karl shows in his thesis that digital soil maps, developed with the help of machine learning and portable X-ray analysis, are a good complement to conventional soil mapping.
The results showed that 47% of Swedish arable land has a low probability of copper deficiency, while the remaining 53% turned out to have a medium to high risk of deficiency. In his work with the map of cadmium in arable land in Skåne County, Karl also studied the content of cadmium in winter wheat crops. It turned out that there is a connection between low concentrations of cadmium in the soil and low concentrations of cadmium in winter wheat.
- The maps can be guiding in agriculture and show what priorities need to be made for conventional laboratory analyses of the amount of elements in arable land. Conventional lab analysis is more accurate than portable X-ray analysis and digital maps, so some soils need to be analysed in a lab to get fully reliable results. This applies, for example, to soils that have potential copper deficiency. The maps can support the farmer, so that conventional soil mapping and lab analysis do not need to be done everywhere. This way, the farmer can save money and focus on potential risk areas.
-When manufacturing food that has high quality requirements, such as baby food, the cadmium map can be very helpful in avoiding cultivating land with harmful concentrations, says Karl.
Good opportunities to develop maps for other elements
The map of cadmium concentrations in arable land in Skåne County can be scaled up to cover the whole of Sweden, which would provide more opportunities to grow winter wheat in good soils. Further, comprehensive data from the Swedish Board of Agriculture and the Swedish Environmental Protection Agency make it possible to develop more maps for other elements and soil properties in the future, which would facilitate the placement of crops and thereby contribute to a sustainable food production.
---
Contact
Karl Adler
Phd Student at the Department of Soil and Environment; Soil nutrient cycling
+4651167253, +46722099860
karl.adler@slu.se
---
Links: