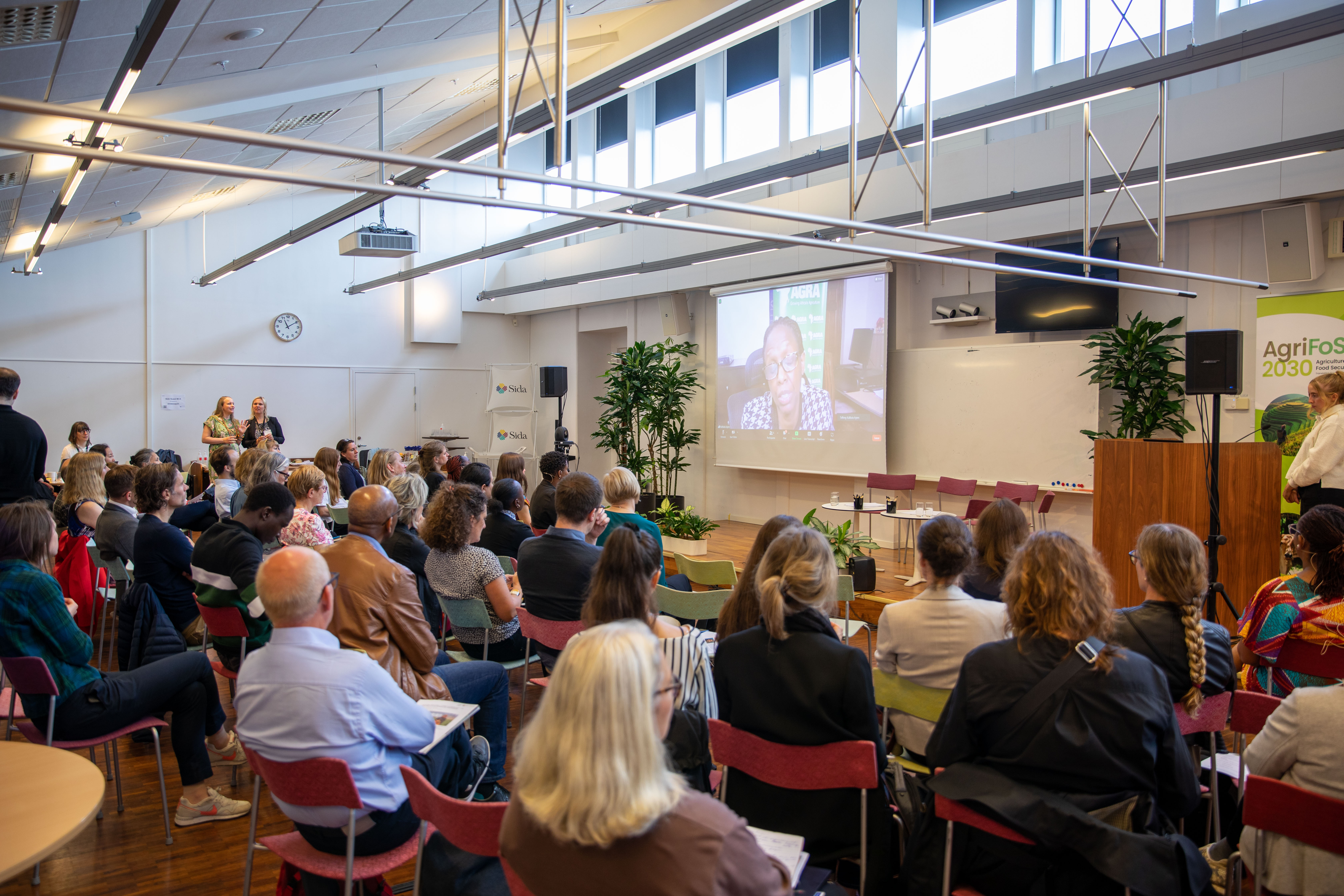 Participants at Sida following the event. Photo by Petter Alke
Assem Abu Hatab painted a clear picture of the future food systems, considering the consequences of the Russian invasion of Ukraine. In a recent article, he outlines profound impacts of the conflict on food security for smallholders and youth in low-income regions (especially on the African continent). He urged the international donor and development community around the world to be prepared to react quickly to avoid food insecurity and potential socio-political instability in Africa.
EAFF's actions on getting the youth on board
In her keynote address, the President of EAFF, Elizabeth Nsimadala called for urgent action for young agripreneurs to thrive in their businesses.
"We've had enough discussions. Now we need action!", she said.
She outlined her priority list of actions:
Ensure that we provide a platform through which the youth can participate in food systems dialogues.
Provide a mechanism where youth can prioritise value chains of interest to them.
Ensure existing policies support youth endeavours in many countries.
Access to resources such as finance and land, which are critical.
The need to work with farmers' organisations, to mobilise youth in agriculture and to support their advocacy work at all levels, and to assist the youth in building mutually reinforcing partnerships.
"The future belongs to the youth. Any discussions concerning today and tomorrow should have young people at the table, otherwise, the future generations will never forgive us for messing up the future", she concluded.
Young Agripreneurs turning challenges into opportunities
Tracy Kimathi, a young agripreneur from Kenya shared about her company, BARIDI, which is a solar-powered cold room used primarily for meat preservation by pastoralists. In 6 months, the company has introduced solar chillers which preserve meat produce within pastoralistic communities whose livelihoods are devastated by climate change. During the COVID-19 pandemic, together with her business partners, they took the time to pivot and re-analyse their business model. She urged the Stockholm+50 delegates to support and reinforce the expansion of off-grid solar preservation within East Africa's meat markets. This should be done by introducing renewable cold storage facilities for beef and dairy storage as an appropriate, beneficial and financially viable application as a driver of food security in livestock value-chains.
Dr Jenna Senecal, CEO of Sanitation360 – a company that offers a unique solution that converts urine into a dry-fertiliser, preventing water pollution and enabling easier circular management of wastewater and nutrients. During the pandemic, she was able to network and collaborate more with the rise in virtual meetings. She challenged industry players to manage excreta as a fertilizer rather than waste. Dr Senecal called on the Swedish government to take the lead and act now by adopting new nationwide legislation mandating the recycling of nutrients from wastewater.
Check out the interviews with Elizabeth Nsimadala, Tracy Kimathi and Dr Jenna Senecal where they urge Stockholm+50 delegates and the international community to better engage with youth in agriculture.
Watch this video with EAFF president Ms Elizabeth Nsimdala where she shares her messages to the Stockholm+50 delegates:
Watch this video with young agripreneur Tracy Kimathi where she shares her questions and message to the Stockholm+50 delegates:
Watch this video with the CEO of Sanitation360, Dr Jenna Senecal, where she tells us about her company and shares a call to action to the Swedish government: