Poltava State Agrarian University in Ukraine awards Galia Zamaratskaia with an honorary doctorate
Published: 23 March 2023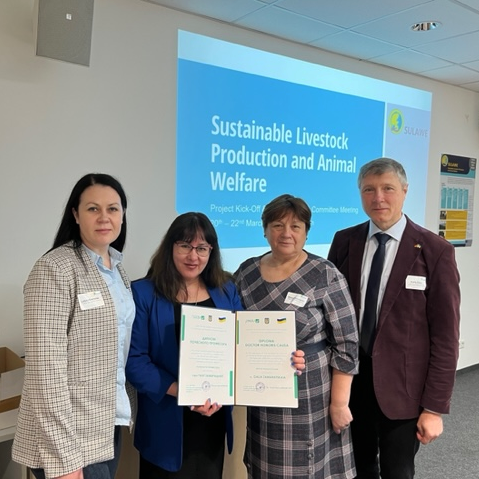 In March 2023, Associate professor Galia Zamaratskaia received the Doctor Honoris Causa award at the Poltava State Agrarian University, Ukraine for her impact on the development of a long-term collaboration in research and education.
Galia's colleagues from the Poltava State Agrarian University described her admirable work in a recent interview; "We started a collaboration with Galia some years ago, and we know her as an effective and committed teacher, successfully bringing her expertise in the fields of animal and food science into the classroom", said Professor Oksana Kravchenko.
Professor Larysa Kuzmenko explained that "Galia organized the participation of our teachers and students in international projects and held a number of educational events. For example, in November 2022, she conducted practical classes in the course Innovative technologies of livestock production on the topic of meat products derived from entire male pigs. To do this, she used the so-called flipped classroom style, which is a blended learning approach. A teaching approach that has become highly relevant in light of the Ukrainian situation today when innovations in teaching methods are needed".
Professor Svitlana Usenko added that "Galia also organized an online course entitled: How to write and publish a scientific paper in an international journal. This course was highly appreciated by both teachers and students".
In response to being awarded the honorary doctorate, Galia shared that "I am remarkably delighted because of this award. This prize gives me more dedication in my teaching and research, and I am looking forward to further collaboration".
Everyone from the Department of Molecular Sciences at SLU would like to congratulate Galia on this achievement!

---
Contact