SLU's breeding of perennial barley receives major support from the Innovation Fund Denmark
Published: 02 May 2023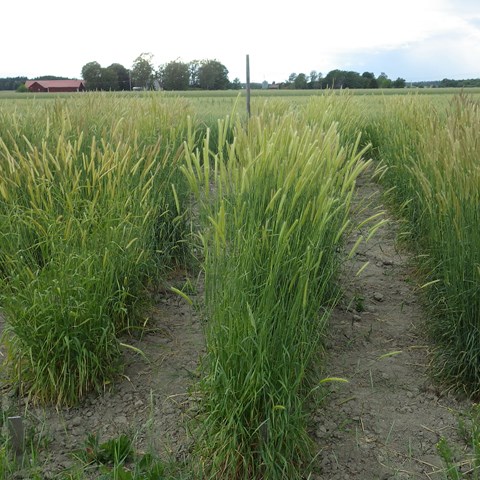 For five years, researchers at the Swedish University of Agricultural Sciences in Uppsala have been working to domesticate and breed the plant Hordeum bulbosum into a new perennial and climate-smart cereal crop. Their work is to be accelerated in collaboration with the University of Copenhagen and Carlsberg Research Laboratory, through a grant of 23.1 million Danish Krone from the Innovation Fund Denmark.
Annual crops are grown on 80 percent of the world's agricultural land. Compared to the annual crops, perennials have great advantages for the environment and the climate. They reduce nutrient leakage from the soil and eutrophication of lakes and streams, sequester a large amount of carbon dioxide, do not require tillage, can more easily compete with weeds and are less sensitive to drought.
Research and plant breeding of perennial wheat (Thinopyrum intermedium) are ongoing in the USA and Canada, and by Anna Westerbergh and her research group at the Department of Plant Biology at the Swedish University of Agricultural Sciences in Uppsala. But the research on Hordeum bulbosum funded now is unique. The foundation was laid ten years ago when Anna Westerbergh and colleagues were looking for perennial grass species with the potential to develop into a high-yielding crop. Hordeum bulbosum was selected among 17 species. Hordeum bulbosum is a perennial relative of the annual barley grown today, Hordeum vulgare. Just over 700 genetically unique individuals from places with different growth conditions from Southern Europe to Central Asia were selected and planted in Vattholma north of Uppsala in 2017. One fourth survived the Swedish climate in the years that followed and individuals with large seeds and good regrowth were selected. There are now 49 of these plants cloned and planted in the field at Axfoundation's test farm Torsåker Farm.
Now the next step can be taken by the Innovation Fund Denmark investing 23.1 million Danish Krone in the project PERENNIAL – Accelerating the domestication of a novel perennial climate-smart barley. Anna Westerbergh's research group at SLU, together with the Carlsberg Research Laboratory in Copenhagen and Michael Broberg Palmgren's group at the Department of Plant and Environmental Sciences at the University of Copenhagen, will now use both traditional plant breeding and advanced molecular selection to improve several agronomic traits.
- We have a QR code for each individual in the field and since the crop is perennial, we can follow each plant through several seasons and we can easily make clones that can be planted at other sites, says Anna Westerbergh. We have come a long way in domestication but this research will really take Hordeum bulbusom to the next level by contributing with our different competencies. The new crop should, for example, have non-brittle spikes (that the spikelets with their seeds stay on the spike at maturity and do not fall off before harvest), and we cannot improve this trait through traditional breeding as it is lacking in the wild Hordeum bulbosum.
In total, the budget amounts to 31 million Danish Krone and the project will be coordinated by Carlsberg Research Laboratory,
- There is a need for high-yielding perennial cereals in a future agricultural landscape to facilitate the green conversion of the production of food and feed raw materials, says Birgitte Skadhauge, vice president and head of Carlsberg Research Laboratory.
The project is expected to contribute to both economic and ecological sustainability. Farmers could save both time and money because they don't have to plow and sow before each growing season, and add fertilizer and herbicides to the same extent. A reduced use of fossil fuels and fertilizer can also contribute to a reduced emission of greenhouse gases such as carbon dioxide and nitrous oxide, and thereby gives a lower carbon footprint.
- With continued research and plant breeding, it will be possible to study and understand the environmental benefits of these new perennial crops, says Anna Westerbergh.
Contact
Anna Westerbergh, Associate Professor, Swedish University of Agricultural Sciences
+4618 673340, anna.westerbergh@slu.se
Pai Rosager Pedas, Director of raw materials, Carlsberg Research Laboratory
+45 2011 5828, pai.rosager.pedas@carlsberg.com
Michael Broberg Palmgren, Professor, University of Copenhagen
+45 3528 3365, palmgren@plen.ku.dk
Jens Bomholt, Head of press and media, Innovation Fund Denmark
+45 6190 5045, jens.bomholt@innofond.dk


Press photos
(May be published freely in connection with articles about this press release. Click for high-resolution image. Photographer must be stated.)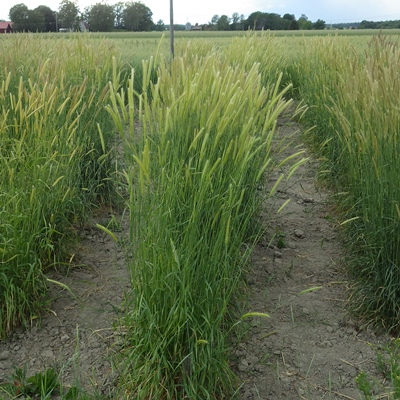 Hordeum bulbosum, a perennial wild relative of annual barley. Photo: Per-Olof Lundquist.



Anna Westerbergh studies the axils of Hordeum bulbosum. Photo: Per-Olof Lundquist.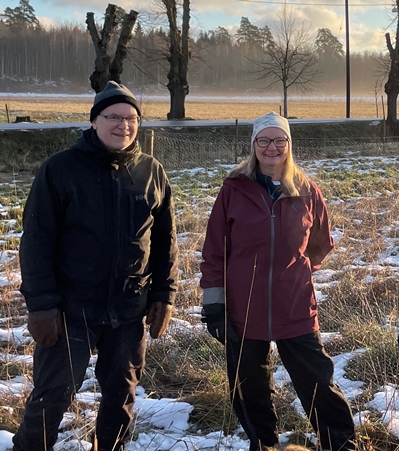 Per-Olof Lundquist and Anna Westerbergh among their field trials at Torsåker farm. Photo: Valentin Picasso.
---
Contact
---
Links: