World-Class Equipment
Last changed: 07 February 2020
The researchers of the NJ Faculty have access to world-class equipment. Examples of advanced equipment in the new buildings, Uppsala BioCenter and the Soil-Water-Environment Center, are a phytotron, a greenhouse, NMR equipment, mass spectrometers and lysimeters.
The Phytotron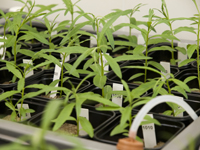 Uppsala BioCenter is equipped with Sweden´s most advanced facility for plant growth.
In the phytotron, the climate can be controlled with very high precision. The facility is tailor-made to meet future requirements for plant research. A traditional greenhouse complements the phytotron.
Mass Spectrometry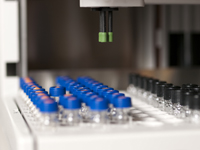 Mass spectrometry, MS, is an important technique for determining mass, composition and structure of organic molecules and compounds, for example carbohydrates and proteins, as well as inorganic molecules and compounds.
Improved detectors and the introduction of computer technology have turned mass spectrometry into a very sensitive technique. Sample sizes down to picograms are generally large enough for reliable analyses.
NMR Spectroscopy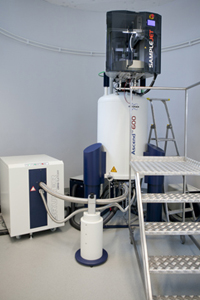 NMR stands for Nuclear Magnetic Resonance.
Within chemistry, NMR spectroscopy is used for, among other things, determining structure and composition of molecules, for example proteins. NMR is often used in combination with mass spectrometry.
NMR equipment is stationed in an especially constructed building in one of the inner yards of Uppsala BioCentre. Two NMR instruments give the researchers of the NJ faculty a broad and powerful platform for the future.


Lysimeter
A lysimeter is used for measuring leaching losses and evaporation from the soil and the vegetation or for sampling water and gases in the soil.
The lysimeter is a vessel, often cylindrical in shape, and filled with soil. A measuring facility consists of several lysimeters connected to measuring and sampling equipment in an underground building, where water run-off is registered. Water, gases and other soil data are handled and analysed.
---
Contact

Page editor: mw-red@slu.se