Partners and Network
Last changed: 11 November 2022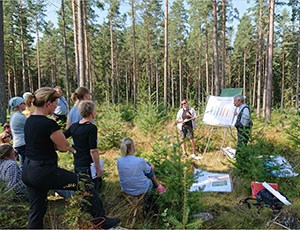 One important part of BECFOR is the exchange of knowledge and experience between the PhD students and the forest sector.
The research school organizes workshops, seminars and forest excursions with open invitations to forest organizations, companies and to forest owners and practicioners.
Study trips
PhD study visits in autumn 2020:
BECFOR is organizing half-day study visits this autumn (one
per month Sept, Oct and Nov). Visits will be for 5-10 PhD
students and aim to promote professional contacts in BECFOR
core areas. First visit:
Trollberget Forest and Water Experimental Area
BECFOR organized a half-day study visit to the Trollberget Forest and Water Experimental Area on September 24, 2020.
Second visit: This trip is postponed
We also want to facilitate and ameliorate future and ongoing research programs in our subject area.
Here are some links to strategic research collaborations, research programs and other research schools:
SLU Future Faculty is a non-profit organisation with the aim to promote the career of early career researchers at SLU. We organise career-promoting seminars, workshops and social activities.
SLU Future Faculty
FRAS, Framtidens skogsskötsel i södra Sverige: Research program with 6 Ph.D students and collaboration in southern Sweden, SLU together with Skogforsk, Linnaeus University and companies and organizations in the forest sector.
FRAS (Research program)
Strategic research collaboration STORA ENSO- SLU. The Swedish University of Agricultural Sciences (SLU) has signed a strategic partnership agreement with Stora Enso.
STORA ENSO
Skogskunskap. The research from Ph D students and seniors at SLU often end up in more applied science and forestry knowledge. One of the best platforms for SLU forest research are the web page Skogskunskap.​
---
Contact
Eliza Maher Hasselquist, Researcher


Department of Forest Ecology and Management, Department of Forest Ecology and Management, joint staff