SLU's knowledge bank
Interleukin 31 and targeted vaccination in a case series of six horses with chronic pruritus
Last changed: 08 July 2021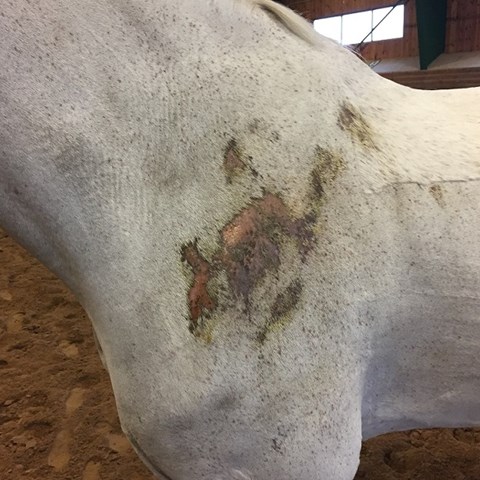 Chronic pruritus is defined as prolonged itching symptoms associated with a variety of skin conditions. These pruritic conditions clinically manifest in a dermatitis phenotype and commonly are of allergic origin with hypersensitivities towards environmental allergens. Interleukin-31 (IL-31) is a common player in allergic pruritus across species.
The objective of the study was evaluation of the clinical efficacy of a therapeutic vaccine targeting IL-31 in horses with chronic pruritus of unknown origin (CPUO) and that could not be explained by insect bite hypersensitivity (IBH).
This consecutive case series pilot study included client-owned horses with a long history of CPUO. Four horses affected by year-round CPUO were vaccinated with a vaccine consisting of equine IL-31 (eIL-31) covalently coupled to a virus-like particle (VLP) derived from cucumber mosaic virus containing a tetanus toxoid universal T cell epitope (CuMVTT). Clinical signs and pruritic behaviour were documented by photography and owner questionnaire pre and post vaccination. In addition, in three CPUO horses, levels of IL-31, thymic stromal lymphopoietin (TSLP) and monocyte chemoattractant protein 1 (MCP-1) were quantified from skin punch biopsies.
IL-31, TSLP and MCP-1 levels were upregulated in pruritic, alopecic skin lesions compared to healthy skin of the same horse. Clinical signs and pruritic behaviour improved in all four horses upon vaccination with eIL-31-CuMVTT vaccine. The vaccine was well tolerated without safety concerns throughout the study. The main limitations of this study are the absence control treated horses and allergy diagnostics.
It was concluded that Anti-IL-31 therapy might be applied as an allergen-independent treatment option for horses with CPUO overcoming the challenges of identifying the allergic trigger.
Link to publication
https://doi.org/10.1111/eve.13408
Reference
Fettelschoss V., Olomski F., Birkmann K., Kündig T.M., Bergvall K., Fettelschoss-Gabriel A. Interleukin 31 and targeted vaccination in a case series of six horses with chronic pruritus. Equine Vet Education 2020 doi: 10.1111/eve.13408
---
Contact
Kerstin Bergvall
Lecturer at the Department of Clinical Sciences; Small Animal Unit
Telephone: 018-671304
E-mail: kerstin.bergvall@slu.se