Biomass Technology Centre (BTC)
Last changed: 01 November 2017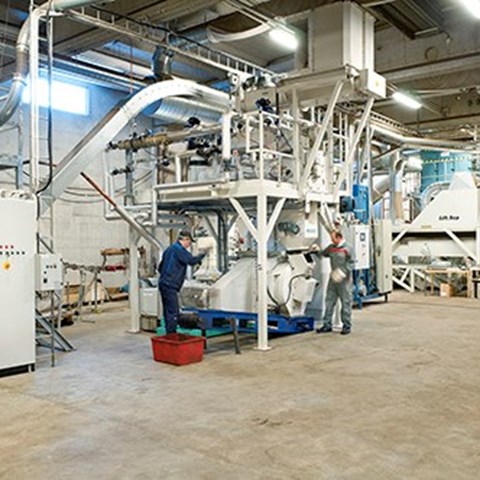 Pilot plant for upgrading and characterization of biomass, biomaterials and biobased side-products.
Biomass Technology Center (BTC) is a pilot plant (1000 m2 floor space + paved surfaces around for mobile systems) for research, development, innovation and education in the processing and pretreatment of biomass and by-products from bio-based industries. Our unique expertise lies in the industrially relevant R&D that we conduct throughout the value chain from raw materials to end users. Our infrastructural resources include comminution, drying, milling, fractionating, compacting (pelletizing and briquetting), thermal processing and combustion in both bench and pilot scale. For determination of feedstock and product quality as well as process monitoring, we develop methods for sampling, chemical and physical characterization, and spectroscopic on-line characterization.
The facility has been in business for 17 years and have two full-time research engineers with solid R&D experience in the fields of characterization, pre-treatment, processing and thermal conversion of biomass. The overall purpose of the facility is to serve as a research node with focus on technology development and innovation that promote the transition to a sustainable society.
Contact
---
Contact
---
Links