Lanna Research Station
Last changed: 14 April 2021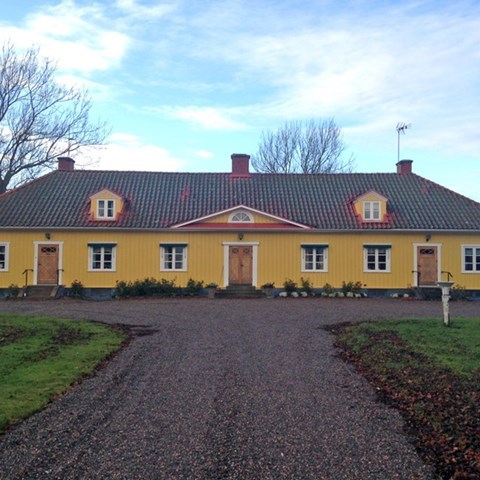 Lanna Research station is a field station with the capacity to perform plot experiments in crop production with access to arable land with different soil type, competent personell, machinery for plot trials, soil sensors, drone, soil samplers, gas emission measurements, wheather station etc.
Lanna Research Station and its field technichans is a resource for field-based research and field trials both within SLU and for other stakeholders. Lanna is situated between Lidköping, Vara and Skara and has an agricultural area of about 155 hectares of clay soil at Lanna and an additional similar sized area with lighter soil at the farms Brogården and Götala in Skara. Lanna has plot machinery for sowing, fertilizing, spreading manure, spraying, weed hoeing, harvesting and more.
Lanna became an experimental station in 1929 and is today one of four field stations for agicultural crop experiments within SLU distributed from south to north. Here are several field faciliteis for plotwise leaching measurements and a lysimeter facilty with room for 48 lysimeters, where leaching can be measured in 30 cm wide soil columns taken from different locations. The field station is especially well equipment for and experienced of different kinds of fertilization experiments.
There are twelve long-term experiments managed by Lanna within the framework of NL faculty funding. The experiments concern soil fertility, leaching, tillage and crop rotations. The oldest experiment started in 1936 and is the oldest still ongoing field experiment in Sweden. These experiments are available for research projects and students after consultation with managers at SLU.
The research station is linked to the research group for precision agriculture and pedometrics at SLU in Skara and has thereby access to expertise and equipment for sensor measurements, such as different soil sensors and a drone. The station can be consulted by all researchers at SLU and other universities, and other stakeholders who want help with trial or sampling of soil, water, air and crops.
---
Contact
---
Links