Swedish Electrofishing RegiSter (SERS)
Last changed: 01 September 2020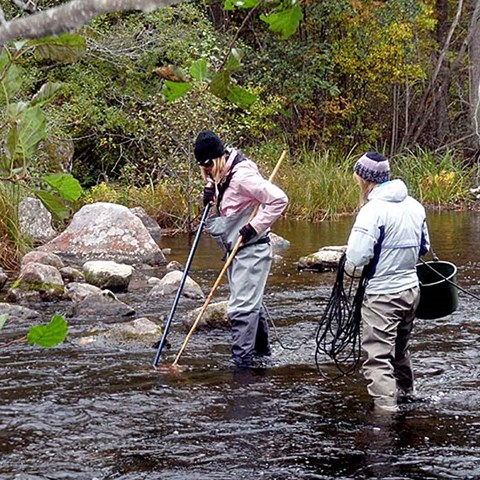 Electrofishing in streams.
Electrofishing in rivers has become a common method for fish monitoring in rivers, both in terms of ecological status, species distribution, monitoring of salmon communities and as a basis for fisheries regulations.
About 2,500 electrofishing surveys (watercourses section) spread across Sweden are performed anually. The surveys are often included in the county administrative boards follow-up of national and regional liming to mitigate acidification and environmental monitoring. The results also have scientific value and has been used in a number of publications and compilations.
It is a method that is gentle to the fish if performed correctly. The fish is caught with the help of electricity and after measuring and examining the fish you can release the fish alive. Since 1996 SLU, Department of Aquatic Resources, is data host for fish, now on behalf of the Marine and Water Authority. The results from the surveys are collected in the national database SERS. Reported results is quality secured, stored and distributed to
clients and providers. The database SERS today covers 63,000 electrofishing occasions
distributed on 18,800 electrofishing localities.
Contact
---
Contact