Electron microscope unit
Last changed: 08 September 2020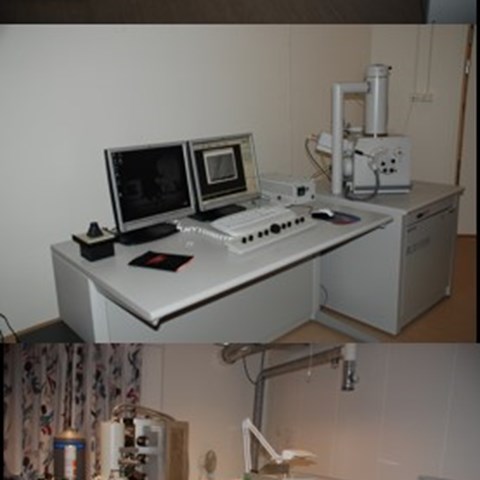 Electron microscopy unit for the preparation and processing of biomaterials for scanning (SEM) and transmission electron microsopy (TEM).
The electron microscope infrastructure consists of TEMs (Philips TEM CM12, FEI-Tecnai T20), SEMs (Philips XL30, Hitachi S-4500) and a range of conventional and more advanced preparation equipment (gold coaters, critical point dryer, freeze fracture, high pressure freezing, ultramicrotomes). The unit has been built up over last 25 years via competitive grants from FORMAS, VINNOVA, Wallenberg and industry.
We provide help to scientists within/outside of SLU with interest to use the
technique through collaboration and/or consulting. The infrastructure has no financial support for instrument service or technical help from SLU and thus must take a service charge for use. While the infrastructure has its focus on wood and fibre ultrastructure, the nature of the technique makes them highly applicable for all types of life and physical science applications.
The infrastructure forms part of Uppsala Electron Microscope network which includes Uppsala University CEMPEG (Geology); Microscopy unit at EBC (Evolution Biology); EM-Unit at Medical Cell Biology, BMC (Cell Biology); Physical Chemistry – BMC; Analysis Laboratory at Ångström Laboratory and, SciLifeLab/BioVisplatform. (http://www2.teknik.uu.se/unem/). The network carries out an annual PhD course on TEM/SEM which includes both practical and theoretical aspects of electron microscopy.
Contact
---
Contact
---
Links