Tools
LifeWatch provides web sevices for data access and virtual laboratories for analysis of biodiversity data. These are the tools and services developed by or in cooperation with LifeWatch: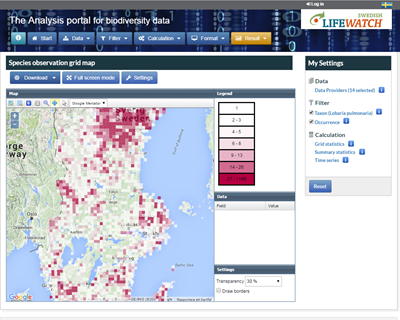 The Analysis Portal provides a single access point to all data connected to the Swedish LifeWatch infrastructure, and a range of analytical services.
BioVeL
BioVeL supports scientists to carry out research on biodiversity by offering computerized tools ("workflows") to process large amounts of data from your own and cross-disciplinary sources, as well as tools for designing and running workflows. The BioVel Portal is currently undergoing re-development.
The web site Nordic Microalgae is a source of information about microalgae and related organisms in the Nordic area, i.e. the Baltic Sea, the North East Atlantic and lakes, rivers and streams in the area. The site is of use for science, education, environmental monitoring etc.
Plankton Toolbox is a free tool for aquatic scientists, and others, working with phyto- and zooplankton data. It is available for MacOS and Windows. Plankton Toolbox makes it relatively easy for non-programmers to work with large data sets on the diversity, abundance, biovolume and carbon content of plankton efficiently. The software is useful for working with datasets emanating from quantitative and qualitative analyses of phytoplankton and zooplankton.
Dyntaxa the official Swedish taxon concept database and provides the taxonomic backbone of Swedish LifeWatch. Dyntaxa can also be publicly accessed from the website www.dyntaxa.se
Loading…