Uppsala, SLU Ultuna Campus
Programme Meeting March 2023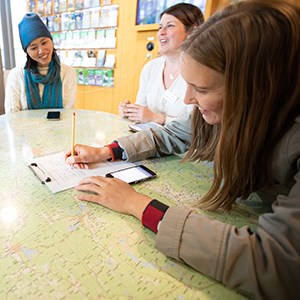 Welcome to the early spring edition of the Mistra Environmental Communication Programme Meeting!
At this programme meeting, we highlight some of the exciting, emerging work that have not yet been presented at previous meetings. As usual, there will be plenty of opportunity for us all to discuss the findings and curiosities of these and other projects.
You will receive a detailed programme via e-mail. Please register via the button below no later than the 10th of March.
Facts
Time: 2023-03-15 09:00 - 2023-03-16 20:00
City: Uppsala, SLU Ultuna Campus
Organiser: Mistra Environmental Communication

Programme
Wednesday 15th March
9:00-11:00 Mediating strategies for environmental communication
This is an open session on the strategies used by media professionals to communicate environmental issues. In this session, work package 5 researchers will present the initial findings of their analysis. A group discussion will be used to articulate a more environment-centred narrative strategy.
This session takes place both online and on site in Uppsala.
Meeting URL: https://slu-se.zoom.us/j/65422701380
Passcode: 112640
9:00 - 11:00 Working lab #6 - Art and Environmental Communication
This is a closed session for the members of the working lab series.
11:00-11:15 Break
11:15-12:00 A study of disinformation in Swedish forest policy
During this session we will present and discuss preliminary findings from a series of focus groups with actors within Swedish forest policy. The findings concern how these actors perceive disinformation and their responsibility in countering it.
12:00-12:45 Lunch

12:45-13:45 Jonas Gren: Climate futures
After a brief welcome by Eva Friman and Anke Fischer, acclaimed poet and novelist Jonas Gren will explore environmental futures. How can we talk and think about the futures of what humanities there might be, through and beyond dystopias, technological utopias, hope, despair and everyday life?
13:45-14:00 Break
14:00-15:30 Hunters and gatherers – communication over data collected by voluntary efforts (In Swedish)
In this workshop, we will discuss the role of communication in, and the communicative possibilities and challenges of, gathering data by the means of voluntary engagement. Preliminary results will be presented from a study on the role of communication, technology, motivation and trust in Swedish hunters' willingness to contribute to bag statistics.
14:00-15:30 WP 6 Thin Ice participatory analysis workshop
This is a closed session for the working group of the participatory analysis of the television series Tunn Is/Thin Ice.
15:30-16:15 Coffee break and trip to forest
16:15-17:30 Urban forests, nature interpretation and environmental communication - a shared exploration
Join us for an exploration of the environment around us together with the Swedish Centre for Nature Interpretation (CNV). CNV works close to Environmental Communication, mainly with competence development for professionals working with developing people's relation to nature and landscape. In Uppsala's urban forest Stadsskogen, we will visit one or two sites in a think/do tank project collecting visitors' opinions and questions about the forest. We will also discuss shared interests and ideas.
18:00: Dinner
Thursday 16th March
9:00-11:00 Parallell sessions:
Jam session: Networked silences (bring your own computer)
A very short version of a 'hackathon' where we explore which environmental concerns we believe are difficult to be expressed in what parts of the internet, how we can identify that and how we may make them noticeable. Computer-focused, workshop-like in small groups, hands-on, and fast-paced. No programming skills required, just motivation to 'dig'.
Important: Participants need to bring their own computers.
When and how do we learn from communication experiences? (in Swedish)
Communication is a difficult and ambiguous handicraft. Learning about it involves experiences as well as theory and reflexive tools. In this seminar we will discuss when and how and about what we learn about communication; from when communication works well and as expected but also from when it is surprising, unexpected, disappointing and frustrating. We will present data from focus groups of makers of sustainable consumption campaigns and what they say about when they have learnt and changed their views about communication.
11:00-11:30 Coffee break
11:30-12:00 The 'Environment' in Environmental Communication
What does "Environmental" in Environmental Communication stand for? What is the difference between environmental communication, medical communication, educational communication, or any other adjective preceding communication? We have been reviewing the EC journal (2007-present) with the following questions in mind: What is the environment understood to be in this article? How is it studied?
12:00-13:00 Lunch
13:00-16:00 Time for working groups and meetings
19:00-20:00 Uppsala konstmuseum: Hur skapar vi handlingsutrymme i klimatfrågan?
Panel discussion (in Swedish) organised by Uppsala Arts Museum in collaboration with Mistra EC, with artist My Lindh, Göran Sundqvist (Gothenburg university), Elisabet Schellekens Dammann (Uppsala University) and Hanna Bergeå (SLU). Free entry, tickets via Tickster, see more information here: https://konstmuseum.uppsala.se/kalendarium/hur-skapar-vi-handlingsutrymme-i-klimatfragan/.
---
Contact
Anke Fischer
Programme co-director
Professor in Environmental Communication
Swedish University of Agricultural Sciences
Division of Environmental Communication, Department of Urban and Rural Development
Uppsala, Sweden
Telephone: +46 (0)18 67 35 56
E-mail: anke.fischer@slu.se
Read more on Anke Fischer's CV page

Eva Friman
Programme co-director
Director of SWEDESD – Sustainability Learning and Research Center
Uppsala University
Telephone: +46 (0)701679174
E-mail: eva.friman@swedesd.uu.se
Read more on Eva Friman's CV page