Uppsala, SLU Ultuna Campus
Programme Meeting October 2022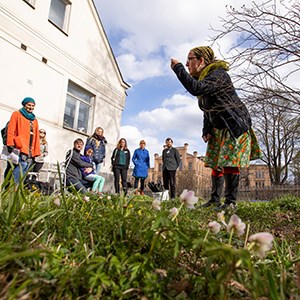 This edition of the Mistra Environmental Communication Programme Meeting is over. Thank you for your participation!
We had two days of inspiring collaborations on new ways of communicating sustainability and environmental questions.
This time we also reflected upon what we have learned together up until now, resulting in very valuable impressions for going forward with our application for a second programme term.
You will find the schedule for the meeting below. Are you interested in some of the themes? Do not hesitate to contact erik.hallstensson@slu.se!
Facts
Time: 2022-10-24 12:00
City: Uppsala, SLU Ultuna Campus
Organiser: Mistra Environmental Communication

Programme
Monday 24th October
12:00-12:45 Lunch
12:45-13:00 Welcome!
13:00-15:00 Environmental Struggles in Swedish audio-visual media
This session will focus on the ideological struggles around the environment and human-nature relations as they are presented in the analysed case studies of Swedish television programmes and documentaries.
15:00-16:00 - Bus to Coffee Break at Uppsala Art Museum
16:00-18:15 'All that is solid melts into water' - think/do tank
Please join us in an "experiment" with art and environmental communication at the Uppsala Art Museum! Everybody is warmly invited, we would appreciate a large crowd!
19:00 Dinner
Tuesday 25th October
9:00-10:30 Parallel Session 1
9:00 1a: Polarisation in Environmental Communication
This interactive session explores our experiences of polarisation in the communication around environmental and sustainability issues.
9:30 1b: Collaboration Within Environmental Communication Education
The session aims at identifying opportunities for collaboration between environmental communication education at SLU and Mistra EC's partner organisations.
10:30-11:00 Coffee break
11:00-11:45 Short talks before lunch
- Amelia Mutter: Communicative Environmentality in the Leva Project
- Jutta Haider & Malte Rödl: Algorithms & meaning-making in times of climate change — some reflections
- Coralie Gourguechon: (An Artist in Residence's take on environmental communication- title tbc)
11:45-12:45 Lunch
12:45-14:00 Looking back at Mistra EC so far: What have we learned?
In this session, we reflect on the work in the programme so far, and ask ourselves what we have learned about environmental communication in the last years – and what we had hoped to learn but did not.
14:00-14:30 Coffee Break
14:30-16:30 Parallel Session 2
2a: 14:30-16:30: Film Screening and Director Talks: Environmental communication and change
The session features the screening of two films produced as part of Mistra Environmental Communication research at the Institute of Communication Studies and Journalism at Charles University in Prague.
2b: 14:30-15:15: Sustainability communication along the cotton value chain – from India to Sweden and back
In this short session, we will hear from a group of students at the University of Texas at Austin how they investigated the journey of organic cotton.
2c: 15:15-17:00: Communicating Complexity
This session will share some of the findings from WP4 and explore these in the wider context of the question how complex issues connected to sustainability can be and are communicated.
---
Contact
Anke Fischer
Programme co-director
Professor in Environmental Communication
Swedish University of Agricultural Sciences
Division of Environmental Communication, Department of Urban and Rural Development
Uppsala, Sweden
Telephone: +46 (0)18 67 35 56
E-mail: anke.fischer@slu.se
Read more on Anke Fischer's CV page

Eva Friman
Programme co-director
Director of SWEDESD – Sustainability Learning and Research Center
Uppsala University
Telephone: +46 (0)701679174
E-mail: eva.friman@swedesd.uu.se
Read more on Eva Friman's CV page