Environmental Ideologies Map – Now online
Published: 12 September 2023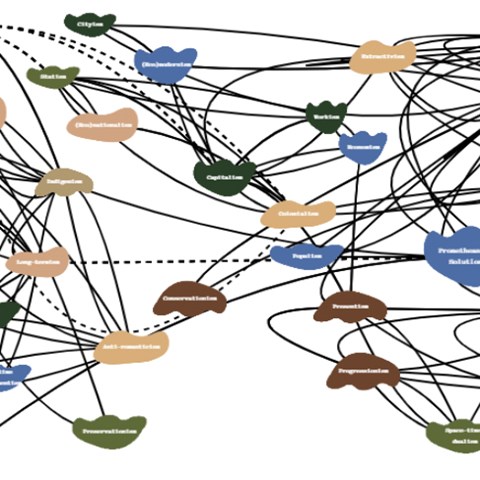 The Environmental Ideologies Map is a website that provides an online platform that explores competing ideological projects over human-nature relationships and the more-than-human world(s).
The map itself consists of 37 connected environmental ideologies that intervene in our thinking about (and our acting in relation to) nature, the world, and ourselves. Visitors can navigate diverse clusters of meanings over nature, sustainability, and climate change, as well as the discursive struggles between those ideologies. The map consists of textual and audio-visual content produced by scholars from the fields of environmental humanities and communication, media studies, philosophy and anthropology.
Here you can access the The Environmental Ideologies Map
Each ideological element of the map is explained through a pop-up window with text and audiovisual content (in English and Swedish), produced through contributions from scientific voices from the field of environmental humanities and communication and media sciences.
The Environmental Ideologies Map is a central element in the exhibition "Moulding Nature – Discursive Struggles over the Environment" currently on display at Färfabriken in Stockholm.
– Beyond this exhibition, we hope that the website will serve educators seeking captivating resources for classrooms, researchers striving to unravel the complexities of environmental discourses and activists to foster deeper understanding and dialogues, says Nico Carpentier, leader of the focus area Media and arts.
You can also have look at the video "The Environmental Ideologies Map: An artistic-academic intersection at Färgfabriken"
---
Contact
Nico Carpentier
Extraordinary Professor at Charles University in Prague
Email: nico.carpentier@fsv.cuni.cz
---
Links: