Lectures, seminars and workshops
Last changed: 01 November 2022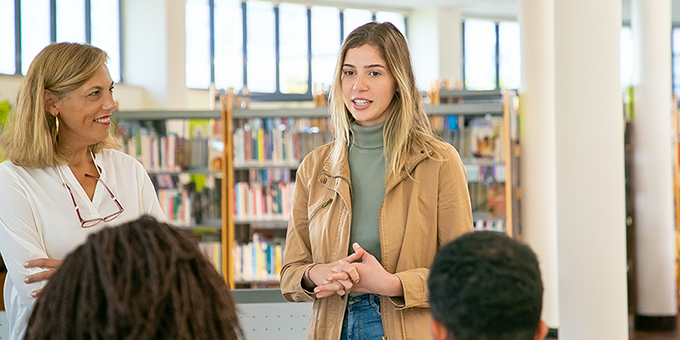 Lectures
2021
My weak signals are shouting at me! Lecture, Association of Professional Futurists, online. Marcus Bussey 2 juli 2021
2020
Kommunicera och Lyssna: Environmental Communication
Lecture at Färgfabriken
Charlotte Ponzelar
17 maj 2020
Seminars
2021
Legitimacy and participation in planning and environmental governance – organisation of a two-day seminar with participants from Aalto University, Finland, and EC-SLU, organized by Martin Westin and Fanny Möckel, featuring talks from all four WP1 case studies, 27-28 October 2021.
Arts-based research in communication and media studies: A series of examples and experiences. N. Carpentier. Ämnesseminarium, Faculty of Journalism, Lomonosov Moscow State University, Russia (online), 6 april 2021.
2020
2019
2019
Workshops
2021
Contribution to SESAM Expert Workshop on Games, SDGs, Local Communities and Natural Resource Management Systems. Do, T. och Powell, N. 28 oktober 2021
Researching across contexts – Exploring the Why and the How. Sustainability Learning and Research Centre (SWEDESD). Whitman et al., 28 september 2021
Co-designing a community carbon project. International Chamber of Commerce set of seminars during COP26. Powell, N. et al. 11 november 2021
2020
National-level workshop in Sweden
(with representatives of H&M, KappAhl, Nudie, Dedicated, Lindex, SSNC)
3 december 2020
Kommunikation och dialog i målbildsarbetet
Hanna Bergeå och Lars Hallgren
Skogsstyrelsen
10 mars 2020
Conference presentations
2022
Breaking down representational frontiers: A case study on the unsilencing of the wolves in the Prague Zoo assemblage. Media breakdown and recovery International Symposium, Lund. 16 mars 2022.
Algorithmically embodied emissions: is algorithmic harm fuelling the climate crisis? The Social Life of Algorithmic Harms Academic Workshop. New York/online. 10–11 mars 2022.
Between dialogue and authority: Facilitators' performance of authority in collaborative governance. Westin, M. Hallgren, L. & Montgomerie, M. Nordic Environmental Social Science (NESS) conference: Emergency and transformation. Gothenburg 2022.
The dilemma of expertise: Power, justification and ambivalence in urban governance. Westin, M. Keynote talk at the conference 'Getting our cities right #1: From critical urbanities to sustainable foodscapes'. SLU, Uppsala. 2022
Playing our way to more relational soil futures – a carbon farming case. Barrineau, S., et al. Conference paper in the session "Soils as sites of emergency and transformation", Nordic Environmental Social Science Conference (NESS), Gothenburg, 7-9 June 2022
2021
Who is entitled to speak? Unsilencing strategies in animal-human relations. Carpentier, N. European Communication Conference, online. 6-9 september 2021
Arts-based research in communication and media studies: A series of examples and experiences. Carpentier, N. Communication Talk 21, International Communication Club, Bangladesh (online). 22 maj 2021
Discursive-material struggles over the environment: The documentary film Kiruna – A Brand New World as an audio-visual intervention. Carpentier, N. Media and Communication. Vilnius Tech, invited main speaker. 22-23 april 2021.
Soil Sense-abilities – A Multispecies Approach to Caring for Futures
Barrineau, S.
World Futures Studies Federation (WFSF) World Conference
Berlin (Online)
October 26-29, 2021
Building Transdisciplinary Capacity
– How can transdisciplinary research and university-based sustainability labs support societal impact towards sustainable futures?
Friman, E.
The 2021 International Transdisciplinarity Conference (ITD), online
September 13-17 2021.
Working towards environmental change: The construction of sustainability in Facebook groups in Sweden
Doudaki, V., Carpentier, N.
International Association for Media and Communication Research conference, online/Nairobi, Kenya.
11-15 July 2021.
I, My Selfie, and Nature: dominating wilderness
Haider, J., Rödl, M., Joosse, S.
Conference on Communication and Environment.
21-24 June 2021.
Enacting serious game co-design as an exploratory space for sustainability transformations
Do, T., Powell, N., Bussey, M.
Sustainability Research and Innovation Congress, online/Brisbane.
12-15 June 2021.
The conflicteous intersection of anthropocentrism, global capitalism and the material agency of the local soil: A discursive-material analysis of the documentary film Kiruna - A Brand New World
Carpentier, N.
International Communication Association conference, online/Denver, USA.
27-31 May 2021.
I, My Selfie, and Nature: entanglements with wilderness
Rödl, M., Joosse, S., Haider, J.
Nordic Science and Technology Studies conference, online/Copenhagen.
20-21 May 2021.
Regeneration, Redistribution and Value Loops: Moral intent and an ethics of care.
Palakshappa, N. Venkateswar, S. and Ganesh, S.
International Communication Management Conference, online/Ahmedabad, India.
January 8, 2021.
2020
Paradigms and Paradoxes: Beyond the Extant Approaches to Transparency
Delaney Harness
National Communication Association, online/Indianapolis, United States.
21 november 2020.
Silencing / Unsilencing Nature: A remediation of human-animal relationships
Nico Carpentier
'Mediating Change' International Colloquium, Prag.
20-21 november 2020.
Biodiversity dilemmas and cross-scale challenges in Arctic governance
Annette Löf
European Polar Science Week, hosted by the European Space Agency.
29 oktober 2020.
Visibility and sustainability in value chains
Shiv Ganesh och Nitha Palakshappa
Digital Transformations Symposium Copenhagen Business School, Online/Copenhagen, Denmark.
29 oktober 2020.
Silencing / Unsilencing Nature: A reflection on giving nature more of a voice
Nico Carpentier
Media Leadership Forum, Jinan University, China.
13-18 juli 2020.
From stakeholders to joint knowledge production partners: The participatory development of guiding principles and toolkit to structure the participation of non-academic partners in academic research
Vaia Doudaki och Nico Carpentier
International Association for Media and Communication Research conference.
12-17 juli 2020.
Do we need to reframe our understanding of environmental communication? Beyond instrumental concepts of communication for sustainability
Anke Fischer, Lars Hallgren, Kaisa Raitio och Erica Von Essen
International Association for People-Environment Studies (IAPS) online/Quebec.
22 juni 2020.
Visibility Agents: Organizing Transparency in the Digital Era
Shiv Ganesh, Delaney Harness och Cynthia Stoh
International Communication Association Annual Convention, online/Gold Coast, Australia.
Maj 2020.
2019
Environmental communication – a research field relevant for environmental psychology?
Anke Fischer och Lars Hallgren
Swedish Environmental Psychology Network, Lunds universitet.
8 november 2019.
---
Contact