Noble Crayfish farming in Sweden
Last changed: 16 August 2023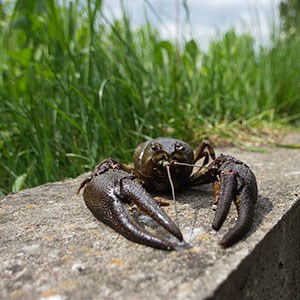 In Sweden there are two species of freshwater crayfish: the noble crayfish (Astacus astacus), and the introduced signal crayfish (Pacifastacus leniusculus). The populations of the noble crayfish has declined sharply in Sweden during the 1900s, mainly because of the crayfish plague. There are other reasons to the decline such as the spread of signal crayfish, acidification, pollution and water regulation.
It is estimated that as much as 97 pecent of crayfish stocks have been knocked out in the last hundred years. The noble crayfish is culturally and socially very important, and has a high economical value at the market. In many parts of Sweden, efforts are underway to preserve and strengthen the fishing of the noble crayfish.
Publications and education
Book: Noble crayfish and crayfish farming in Sweden - a handbook based on experience
This handbook is divided into two parts. The first part contains a lot of information and facts about crayfish. The next part is a more practical guide to crayfish farming. Authors: Per Nyström and Marika Stenberg (Ekoll AB), Lennart Edsman and Patrik Bohman (SLU, Department of Aquatic Resources).
Training material: "Kräftodlingens ABC"
SLU has developed a training material in swedish on noble crayfish farming, "Kräftodlingens ABC". The training material is addressed to those who wants to start farming noble crayfish. The package contains a handbook, a movie as well as information on financing, noble crayfish and crayfish plague.
---
Contact