ACCELERATE Lab 2018
seminars, workshops |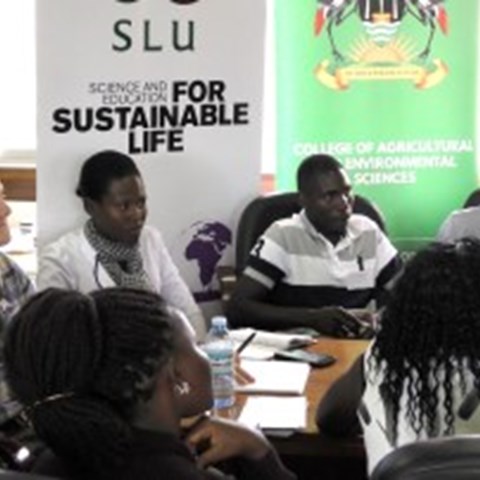 In August 2018 we will roll out the second, more extensive edition of the ACCELERATE innovation Lab, which will provide a pipeline for agri-innovations and agribusiness development among the students and youth agripreneurs.
Since access to market with sellable agricultural products and services requires innovations and agripreneurship as well as an enabling environment built on transparent access to knowledge, tools and resources, business mentors and students will be engaged in a synergistic interaction that cross-fertilizes academia and the private sector community of practice in agriculture and agribusiness. As part of our commitment to develop a global perspective, the event will also attract European agripreneurs in education and big agrifood corporations with an interest in global agribusiness. Building on these learning experiences, solutions for facilitating the engagement of youth in sustainable agribusiness will be identified and evaluated with different pedagogic and scientific approaches.
Accelerate 2018: Workshops, Meetings, Innovation Lab and Learning Journeys
August 15-24, 2018, Makerere University, Kampala & Uganda
The second Accelerate workshop and lab will still be held in Uganda hosted by Makerere University and convened by the ACCELERATE multi-stakeholder partners from August 15 -24, 2018.
August 15, 2018: Urban agripreneurship visits in Kampala
The event will start with urban and per-urban agripreneurship visits around Kampala on the 15th where agricultural students from SLU and their Ugandan counterparts together with teachers and business mentors will visit a number of youth-led urban farms and draw practical insights of how the youth are driving the sustainable urban food production systems.
These urban agribusiness learning journeys will also provide a platform for breaking the ice and setting the agenda for students from the global North and South to forge practical linkages and possible collaborations and these ideas will follow up in the plenary sessions and round-table ideations during the workshop and hackathon on 16th and 17th respectively.
August 16, 2018: Workshop, public lectures and exhibition, Makerere University
This will be the first of the two days of workshops and hackathon at Makerere University. The event will attract key stakeholders from government, development agencies and private sector who will join their academic counterparts (university teachers and students) to engage in conversations on demystifying the current education and training system (that focuses on theoretical learner-centered approaches) to focus on problem-solving and tackling societal challenges. The day will be comprised of keynote addresses and panel discussions by renowned scientists, industry leaders, development practitioners and policy makers; but very importantly take in the student and youth perspectives on the current educational gaps in tackling societal challenges especially youth unemployment.
The event will also include by a series of plenary sessions to draw practical strategies for mainstreaming educational, evidence-driven sustainable agribusinesses going forward and providing insights for white paper publication for broader stakeholder engagements and as a roadmap for practical interventions.
The day will close by participants visiting the exhibition on the agripreneurship innovations where participants will learn about what the student agripreneurs under the ACCELERATE platform have already embarked on to translate their acquired academic knowledge into business solutions.
August 17, 2018: Collaborative Innovation & Hacking Platform, Makerere University
This event will bring together students from the regional universities and their counterparts from the global north as well as youth agripreneurs to collaboratively hack more practical sustainable agribusiness solutions under the guidance of the academic and business mentors.
August 18-24, 2018: Learning Journeys through Central and Western Uganda
Learning journeys through central and western Uganda to have the student agripreneurs and their mentors' will follow the events in Kampala and Makerere University. The young agripreneurs will interface with the value chain bottlenecks and raise practical insights to guide their business solutions to these value chain challenges. The learning journeys will start at Rural Community in Development (RUCID) – Mityana, where practical agribusiness innovations in the organic food systems are already integrated in the training curriculum for diploma students at the RUCID training college. The journeys will follow through Fort Portal and Kasese and visit the Bukonzo Organic Coffee Cooperative before visiting plantation agriculture at Igara Tea Estates. The journeys will continue through the tourist corridor to the Bwindi Impenetrable Forest and learn how a youth-led social enterprise is changing the community livelihoods of the people around the conservation area. Around trip through Lake Bunyonyi and the Ankole Long-horned Cattle ranches will complete the circle.
Background
In August 2017, the inaugural ACCELERATE multi-stakeholder platform and innovation lab at Makerere University was officially launched by the University Vice Chancellor and attended by nearly 150 participants, primarily young undergraduate and graduate students and emerging youth agripreneurs from local and regional universities and from Europe. This event highlighted the enormous untapped potential and urgency of globally interlinking educated youth with other public and private actors along the agricultural value chain to foster sustainable transformation of agricultural production, innovation and agribusiness. ACCELERATE therefore aims at mobilizing the potential that is inherently existent in universities and other institutions through engagement of the key stakeholders as part of their cooperate social responsibility to deliberately incite youth-led agribusiness development.
Facts
---
Contact

Page editor: malin.planting@slu.se