CV page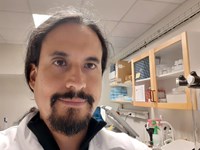 I am a post doc researcher working on soil ecology, soil microbial interactions and nutrient cycling in perennial cropping systems.
Presentation
I have experience in the fields of plant and fungal physiology, plant-soil-microbial interactions, soil ecology, biogeochemical cycles and nutrient limitation in forested and agricultural ecosystems. In agricultural systems I have studied the capability of perennial and mixed crops to desorb phosphorus tingly bound on mineral surfaces.
Currently, I am working on a project aiming to understand the effect of the perennial intermediate wheatgrass (Kernza®) on soil fertility and microbial activity. Our objective is to elucidate the soil ecosystem services of sustainable agricultural practices and cropping systems diversification
Background
B.A, Biological Sciences. Pontifical Catholic University of Ecuador, Quito, Ecuador, 2011
Thesis: Colonization mechanisms in Lasiocephalus ovatus Schltdl. (Asteraceae) in the Antisana Superpáramo. Phenotipic Plasticity, Genetic structure and interspecific interactions.
M.Sc. (June 2014). Biology. Specialization in Molecular Ecology. Lund University.
Thesis: Global analysis of the fungal communities in the introduced pine species Pinus contorta.
PhD. (February 2019). Biology. Specialization in Microbial Ecology. Lund University.
Thesis: Biomass, community structure and phosphorus uptake of ectomycorrhizal fungi in response to phosphorus limitation and nitrogen deposition.
Post-doc researcher in the Microbial Ecology group at the Biology Department. Lund University. July 2019 – November 2021.
Selected publications
Almeida, J. P., Rosenstock, N. P., Woche, S. K., Guggenberger, G., & Wallander, H. (2022). Nitrophobic ectomycorrhizal fungi are associated with enhanced hydrophobicity of soil organic matter in a Norway spruce forest. Biogeosciences, 19(15), 3713-3726.
Almeida, J. P., Rosenstock, N. P., Forsmark, B., Bergh, J., & Wallander, H. (2019). Ectomycorrhizal community composition and function in a spruce forest transitioning between nitrogen and phosphorus limitation. Fungal ecology, 40, 20-31.
Almeida, J.P., Montufar, R. & Anthelme, F. 2013. Patterns and origin of intraspecific functional variability in a tropical alpine species along an altitudinal gradient. Plant Ecology and Diversity, 6: 423-433.
---
Contact