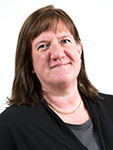 Karin works as lecturer in management with a special interest in the role as leader in cooperative organizations, and how these can be structured and managed in order to benefit members.
Presentation
Karin got her agronomy degree in the spring of 1990 and started her PhD-project later that year. The thesis' focus was on Swedish farmers attitudes and values concerning being member, trading with, and taking part in the democratic process of farmer cooperatives.
After defending her PhD-thesis in 1996, Karin acted as Dean of Studies 1997-1999, followed by acting as Head of Department for the Department of Economics 1999-2008. During the period September 2010 through August 2011, as well as part of 2014-2015, she acted as a Dean of Studies-position on a 50% basis.
Since 2019, Karin sits on the NJ faculty's Program Committee - since July 1, 2022 as the vice chair.She also is a representative for the teachers and researchers on the SLU board.
Teaching
Over the years, Karin has participated and been responsible for a number of courses, for example in basic business administration, bookeeping, and so-called environmental management (how leaders may include environmental aspects in their work). Presently, Karin is the course coordinatoe of the course on agricultural cooperatives, all theses courses in business administration, as well as the introductory course offered to our first-year students in the business administration field. In addition, she acts as examiner for theses on BSc- as well as MSc-level in business administration.
Research
Karin's research focus lies within the field leadership and organizational theory, with a special emphasis on the farmer cooperative firms. Two examples of recent projects are the relation between the board composition and modus operandi, and how this leads to how the cooperative is run. Another example focuses the role of acting as a director on the regional level, and the national level, respectively, in agricultutal cooperatives.
Karin has also participated in a project focusing block chain technology - first focusing on analyzing the knowledge-level concerning these in the academic literature, followed by writing an article (together with colleagues) focusing whether block chain abd circular economy may be combined in the agricultural sector.
Selected publications
Selection of journal articles:
Hakelius & Hansson. 2016a. 'Measuring Changes in Farmers' Attitudes to Agricultural Cooperatives: Evidence from Swedish Agriculture 1993-2013'. Agribusiness, 32(4): 531-546. https://doi.org/10.1002/agr.21464
Hakelius & Hansson. 2016b. 'Members' Attitudes Towards Cooperatives and their Perception of Agency Problems'. International Food and Agribusiness Management Review, 19(4): 23-36. https://doi.org/10.22004/ag.econ.264193
Hakelius. 2018. 'Understanding the Board of Swedish Farmer Cooperatives – Cases Focusing on Board Composition and Interaction Patterns'. Journal of Co-operative Organization and Management, 6(2): 45-52. https://doi.org/10.1016/j.jcom.2018.06.001
Hakelius & Nilsson. 2020. The Logic behind the Internal Governance of Sweden's Largest Agricultural Cooperatives. Sustainability, 12(21): 9073. https://doi.org/10.3390/su12219073.
Pakseresht, Yavari, Kaliji & Hakelius. 2022. The Intersection of Blockchain Technology and Circular Economy in the Agri-Food Sector. Sustainable Production and Consumption. https://doi.org/10.1016/j.spc.2022.11.002.
Grashuis & Hakelius. Under revision. Pricing Strategies of Corporations and Consumer Co-operatives in the Food Retail Sector: Evidence from England, Sweden, and the Netherlands. Journal of Co-operative Organization and Management.
Pakseresht, Kaliji & Hakelius. Under revision. Blockchain Technology Characteristics Essential for the Agri-Food Sector: A Systematic Review. Computers and Electronics in Agriculture.
Selection of books, book chapters and reports:
Hakelius. 1996. Cooperative Values. Farmers' Cooperatives in the Minds of the Farmers. PhD-thesis no 23. Uppsala: SLU.
Hakelius. 2002. Lantbrukskooperationens finansiella problem – teoretiska analyser och uppslag till lösningar. [The Financial Problems of the Agricultural Cooperatives – Theoretical Analyses and Ideas for Solutions] Report no 146. Uppsala: SLU.
Hakelius, Karantininis & Feng. 2013. 'The Resilience of the Cooperative Form: Cooperative Beehiving in Swedish Cooperatives'. Chapter in Network Governance. Alliances, Cooperatives and Franchise Chains, pages 127-147. Editors: Ehrmann, Windsperger, Cliquet & Hendrikse. Berlin: Springer Verlag.
Three reports and one bonus report in the project 'Renewal of the cooperatives', financed by Stiftelsen lantbruksforskning (SLF):
'Relationen mellan medlemmar och förtroendevalda i stora kooperativa företag'. [The Relationship between Members and Directors of large Cooperative Firms] (Report no 1).
'Koncernstyrelsens roll i stora kooperativa företag'. [The Role of the Board of Directors in Large Cooperative Firms] (Report no 2).
'Att styra stora kooperativa företag. En studie av hur stora lantbrukskooperativa företag i Europa hanterar medlemsstyrningen'. [To Control Large Cooperative Firms. A Study of how Large Agricultural Cooperatives in Europe Handle Member Governance] (Report no 3).
'Från SLR till Svenska lantmännen. Hur Lantmännenfusionen planerades och genomfördes 2000-2001'. [From SLR to Svenska Lantmännen. How the Lantmännen Merger was Planned and Carried Out in 2000-2001] ('Bonus report').
---
Contact
Senior Lecturer at the

Department of Economics; Entrepreneurship and innovation for sustainability