CV page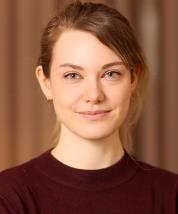 Lara Tickle is a Postdoctoral Researcher in the division for Landscape Architecture at the department for Rural and Urban Development. She conducts empirical and theoretical research concerning frameworks of nature and wildlife management, and human - wildlife relations. She is currently part of the Landpaths project working with urban biodiversity planning in Swedish cities.
Presentation
She is currently working with urban biodiversity issues, looking at urban greenspaces and the management of urban woodland areas. Her previous work is centred on modern processes that affect human relations to nature and wildlife where hunting has been the focus of her research as a platform for human-wildlife interactions. She is experienced in government policy and has a background in Physical and Human Geography.
Background
MSc in Environmental Communication and Management from the Swedish University of Agricultural Sciences
BA in Geography from King's College London
Supervision
Fouache, Adélaïde: "Killing with Kindness: is whale watching in the Salish Sea killing the Southern Resident Killer Whales?"
Hansell, Emma, Hidén, Albin, Jacobsson, Sofia, Lilja, Johanna, Yngve, Klara: "Kött från åländska naturbeten – en försäljningsutredning"
Selected publications
Tickle, L., and E., von Essen., (2020). "The Seven Sins of Hunting Tourism." Annals of Tourism Research 84: 102996.
Essen, E. von, Tickle, L., (2019). "Leisure or Labour: An Identity Crisis for Modern Hunting?" Sociol. Rural. 0. https://doi.org/10.1111/soru.12271 Tickle, L.N., 2019. The Practice of
Tickle, L., (2019). "Hunting as a Way to Transcend Alienation from Nature." J. Transdiscipl. Environ. Stud. 17, 22–34.
Mentioned in media
Sveriges Vildnad presentation: "Den Svenska Jägarens Jaktetik"
Jakt & Jägare : "Frutimmer i Skogen, Jägarinna på Instagram" (Print only)
---
Contact
Postdoctor at the

Department of Urban and Rural Development; Landscape architecture Landscape management
Telephone:
+18672245, +46761346387