CV page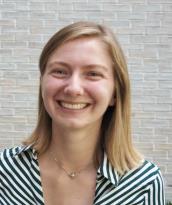 I am in the group of Structural Biology in the Department of Molecular Sciences. Here I analyze the catalytic mechanisms and substrate specifies of carbohydrate-active enzymes, with focus on CDH (cellulose dehydrogenase) and LPMO (lytic polysaccharide monooxygenase).
Presentation
I did my bachelor's in biology at the University of Münster (Germany) and completed my master's degree at the same university with a specialization in integrative and molecular plant sciences.
During my master thesis, I focused on protein expression and in vivo characterization, chemical modification and characterization of chitosan's and their elicitor activity on plants, bioinformatical analysis and in vitro inhibitor development, and general analysis of physiology and biochemistry of plants and fungi.
I am currently a PhD student at SLU in Uppsala, working in the structural biology group under the supervision of Mats Sandgren and Jerry Ståhlberg. My research involves using various methods such as crystallography, mass spectrometry, and cyclic voltammetry to decipher the catalytic mechanism and substrate specificity of CDHs and LPMOs.
Please visit my LinkedIn page for more information about my educational background.
Research
Alternative renewable high-carbon resources become more important due to high energy consumption. Plant-based carbohydrate-rich biomass can be converted to bioproducts such as liquid biofuels or biomaterials.
Despite recent advances, the enzymatic conversion of lignocellulosic biomass is still unable to achieve sufficient efficiency of enzymatic conversion. Thus, there is a need to find better enzymes that will improve the efficiency of the conversion of lignocellulosic biomass into fermentable sugars.
Through in-depth structural analysis of CDHs and LPMOs, the unique variety of these carbohydrate-active enzymes can be better understood, and their usefulness to the industry can be improved to cost-effectively degrade lignocellulosic biomass.
Cooperation
ARADOX – Plants as source of novel biocatalysts, Project leader: Professor Maija Tenkanen, University of Helsinki, Finnland
Dr. Lea Atanasova, University of Natural Resources and Life Sciences Vienna, Austria
Selected publications
---
Contact
Doctoral Student at the

Department of Molecular Sciences; Strukturbiologi