The genetics behind starch and dietary fibre storage in barley seeds is revealed
Published: 05 December 2017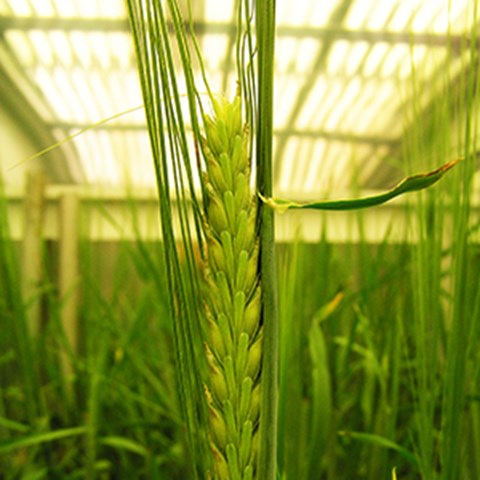 How much of photosynthetic products that are channelled into starch and fructan (a type of dietary fibre) in a barley seed is controlled by a single gene. An international research team, with its base at SLU, has now described a molecular mechanism behind the coordinated synthesis of these two storage carbohydrates. The team has also shown that different varieties of barley produce various proportions of starch and fructan. The findings can be exploited in plant breeding for tailored amounts of starch and fructan.
The results were published in the journal Molecular Plant, and are featured as the journal cover at Cell Press in Dec, 2017, indicating the importance of the findings. The researchers are from the Swedish University of Agricultural Sciences, Hunan Agricultural University, University of Gothenburg and the Pacific Northwest National Laboratory.
Sugars formed by photosynthesis are used as energy for plant growth and for production of seeds that contain an energy supply for the next plant generation. An important way of storing energy is to produce sugar polymers or polysaccharides. The syntheses of such polysaccharides are crucial for the survival of plants.
Starch and fructan are two important polysaccharides for many flowering plants, including agricultural crops such as cereals. Starch is one of the most important sources of energy in human staple foods, while fructan is a type of prebiotic dietary fibre that is absorbed slowly or not at all in the gastrointestinal tract, but fulfils other important functions. The health promoting properties of dietary fibres is a research area of ​​great interest to the food industry today.
What the researchers have shown now is that the synthesis of starch and fructan in a barley plant is coordinated by a single gene. The gene is activated when the sugar content in a cell reaches a certain level, which leads to the formation of two proteins that control many enzyme genes that are necessary for the production of starch and fructan. When different barley varieties were compared, it was found that the proportions between these two proteins varied, which affected the amounts of starch and fructan that were produced.
"This opens up great opportunities. Our findings can be exploited in breeding cereals for tailored amounts of starch and fructan, and potentially for high yields", said Chuanxin Sun, Associate Professor in plant molecular biology at SLU.
"The content of different types of carbohydrates in cereal products is important for taste as well as for technological and health related properties in food" says Roger Andersson, Professor of Food Science at SLU. "We hope that our discovery will lead to new varieties of cereals that have an optimized composition for the production of healthy food products."
The research is led by SLU and is financed mainly by the Swedish company Lantmännen.
More information
Dr. Chuanxin Sun (English)
Department of Plant Biology
Swedish University of Agricultural Sciences
Chuanxin.Sun@slu.se
Prof. Roger Andersson (Swedish)
Department of Molecular Sciences
Swedish University of Agricultural Sciences
Roger.Andersson@slu.se
The article
Yunkai Jin, Mingliang Fei, Sara Rosenquist, Lu Jin, Suresh Gohil, Corine Sandström, Helena Olsson, Cecilia Persson, Anna Stina Höglund, Gunnel Fransson, Ying Ruan, Per Åman, Christer Jansson, Chunlin Liu, Roger Andersson, Chuanxin Sun. (2017). A Dual-Promoter Gene Orchestrates the Sucrose-Coordinated Synthesis of Starch and Fructan. Mol. Plant. doi: 10.1016/j.molp.2017.10.013. http://www.cell.com/molecular-plant/abstract/S1674-2052(17)30332-5
Press image
(May be published freely in articles about this press release. Photographer must be entered.)
Barley plant. Photo: Chuanxin Sun
---
Contact

Page editor: David.Stephansson@slu.se