Svea will be the name of Sweden's new research vessel
Published: 29 September 2017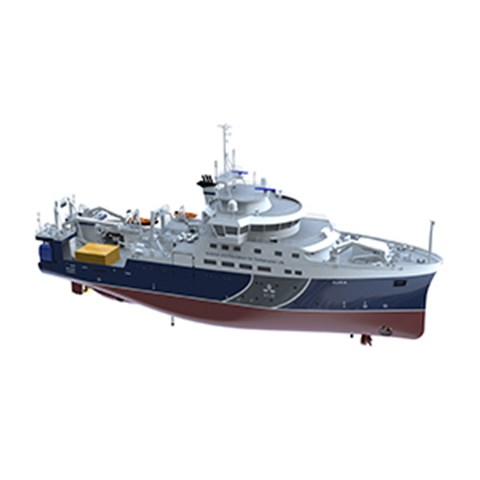 SLU has been commissioned by the Swedish government to build a new ocean-going vessel for marine research and environmental monitoring. Yesterday vice-chancellor Peter Högberg announced that the vessel will have the name Svea. The choice of name was preceded by a name-giving contest.
"We have conducted a name-giving contest that resulted in more than 1000 proposals, and we selected 28 names that met all our demands" says Lars Thorell, director of SLU's research vessel unit. "Then we had an open ballot and the name that received the most votes, Svea, was also the jury's favorite".
The name was announced yesterday by SLU's Vice-Chancellor Peter Högberg, during the celebration of SLU's 40th anniversary at the Ultuna Campus, outside Uppsala.
The winning name Svea was proposed by Jan-Erik Johansson, fishery assistant at SLU's Department of Aquatic Resources, with the following statement:
A short and good name used as a symbol for Sweden. Svea is a women's name of Swedish origin, which since the late 1600s, in the form of Mother Svea, has been used as a symbol for Sweden. Mother Svea is often depicted as a powerful shield-maiden, usually together with one or two lions. The symbol is common, for example, there is a statue of her in the Swedish Parliament House in Stockholm. The government has commissioned SLU to build the new research vessel as a resource for environmental monitoring and marine research in the "Country of Svea". The ship should therefore be called Svea – the mother-ship for all of us.
The vessel will mainly be used by the Swedish University of Agricultural Sciences (SLU) and The Swedish Meteorological and Hydrological Institute (SMHI). SLU investigates fish stocks in the Baltic Sea, Kattegatt and Skagerrak using trawling and advanced echo sounding. The surveys are used for stock estimates and to advise on how much we can fish in a sustainable way. SMHI carries out expeditions to study eutrophication, oxygen levels, marine acidification and marine biology.
The vessel is being built by the Spanish shipyard Armon and is calculated to be launched in the summer of 2018 and the final handover to SLU will take place in the spring of 2019.
Contact
Lars Thorell, Head of the Research Vessel Unit
Swedish University of Agricultural Sciences, Uppsala
+46 (0) 070-557 15 07, fartyg@slu.se
---
Contact

Page editor: David.Stephansson@slu.se