Welcome to an art exhibition opening! Tree of Life – Life of the Tree
Published: 24 May 2018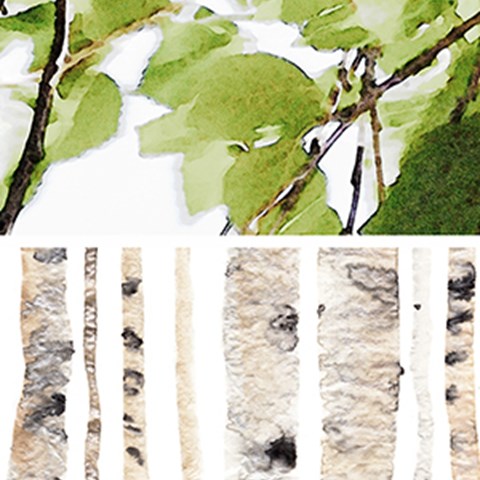 What happens when you combine the knowledge of an entomologist, the perspective of an illustrator, and the creativity of a textile artist? On May 27, we are delighted to invite you to our art exhibition – "Tree of Life – Life of the Tree", celebrating the trees as inspiration and hosts to a fascinating biodiversity.
This exhibition, on the border of knowledge and art, brings together various art forms for inspiration and learning.
The exhibition consists of Studio Bjarka´s two collections of printed fabrics, where the inspiration to the patterns comes from the typical Nordic trees birch and pine, and of watercolor paintings from four books about the trees sallow, aspen, birch and pine.
During the art exhibition on 27 May, you will have the chance to meet and talk with the artists and the designs behind Studio Bjarka – Ulla Hedenberg Wikström and Dominique Charrié. Martin Holmer, illustrator, and Bengt Ehnström, entomologist and author, are also in place to tell us about the work behind the books in the "tree suite", published by the Swedish Biodiversity Centre.
The exhibition Tree of Life – Life of the Tree will be possible to see in the Tyresta national park's information centre in Tyresta throughout the summer of 2018.
The "tree suite" is a series of four books on the biodiversity of trees. All books are written by Bengt Ehnström and illustrated by Martin Holmer. The books are published by the Swedish Biodiversity Centre in collaboration with Världsnaturfonden WWF and the Swedish Society for Nature Conservation: Sälg – livets viktigaste frukost(2009); Asp – darrar min asp, myllrar min värld (2012); Björk – svart på vitt om myllrande mångfald (2015); Tall – En tallrik biologisk mångfald (2017).
Venue: Naturum Nationalparkernas hus, Tyresta (Tyresta national park's information centre)
Time: Sunday 27 May, 13.00: opening of the exhibition. At 14:00, the entomologist Bengt Ehnström is leading an excursion.
Contact:
Annika Borg: +46 18-67 12 12
Håkan Tunón: +46 18-67 25 91
---
Contact
---

Page editor: cbm-webmaster@slu.se