Penningregn över innovatörer!
Published: 25 September 2018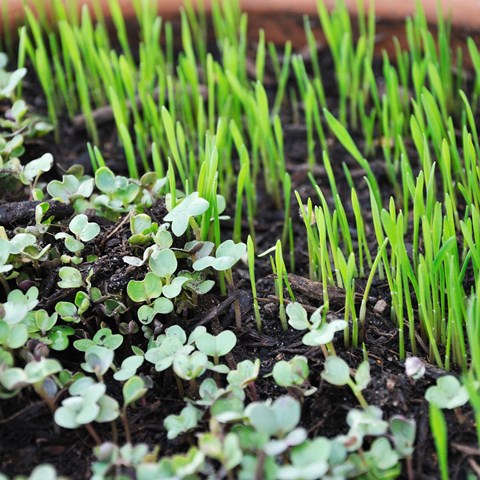 De vinnande förslagen presenterades vid Mat och Städer-konferensen i Malmö den 19 september.
Tre vinnande lag i innovationstävlingen Urban Food from Residual Heat presenterades vid Mat och Städer-konferensen i Malmö den 19 september och tilldelades prissummorna 650 tkr, 250 tkr respektive 100 tkr.
Tävlingsuppgiften har varit att ge förslag till en liten (omkring 2-4 000 m2) odlingsanläggning för grönsaker, fisk och eventuell annan biologisk produktion som kan förläggas till urbana sammanhang. Orterna Malmö, Lund, Bjuv och Oskarshamn är parter i tävlingen och erbjuder potentiella etableringsplatser för tävlingens resultat.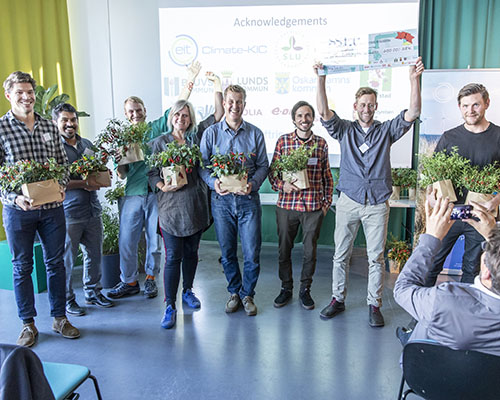 1:a pris, 650 000:-
Season 5
Teamledare: Tailor Made arkitekter AB. Förslagsställare: Tailor Made arkitekter AB; Emulsionen ekonomisk förening; Ecorelief AB; Darking – Dahlström arkitektur och ingenjörskonst; Stadsjord – Hyla pond AB; "Så ett frö" – Västsvenska handelskammaren service AB; Kajodlingen; samt OX2 Bio. Samtliga Sverige. Fr v: Fedrik Holmgren Holm, Thomman Nellimoottil, Hamse Kjaerstadius, Anna Nilsson, Niklas Dahlström, Jonas Lindh, Fredrik Olsson och William Bailey.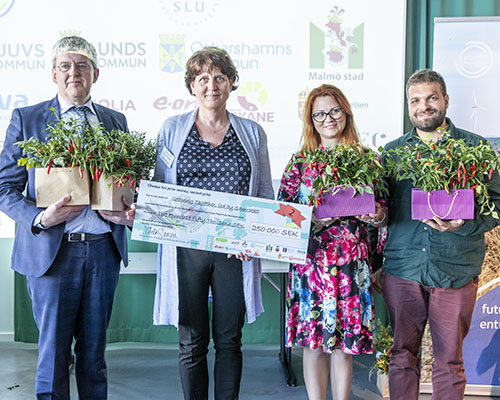 2:a pris, 250 000:-
Samraekt – Growing Together
Teamledare: Samraekt ehf. Förslagsställare: Samraekt ehf, Iceland; University of Maribor, Slovenia; Landing Aquaculture BV, Netherlands; University of Iceland; EN-EF Concept, Serbia. Fr v: Olafur Petur Palsson, Ragnheidur Thorarinsdottir, Maja Turnsek, Ivan Kalc.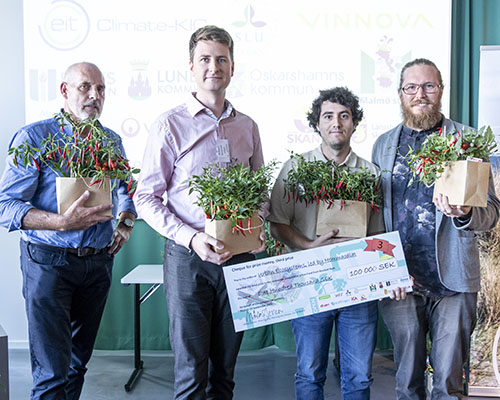 3:e pris, 100 000:-
Urban Ecosystems
Teamledare: Hemmaodlat ideell förening. Förslagsställare: Fr v Sinclair Mantell, Andreas Sörensen, Henrique Sanchez, Niclas Lundius Mörck och Niklas Hjelm (ej med på bilden).
Fotograf samtliga bilder: André de Loisted, Bildbyrån 040 AB.
Klicka på bilderna på denna sida för att ladda ned högupplösta bilder.
Läs mer om förslagen, juryns utlåtanden och gruppernas beskrivning och skisser av förslagen här.
Innovationstävlingen Urban Food from Residual Heat har genomförts under 2017-2018 genom stöd från Vinnova och tretton parter. Den sammanlagda prispotten har varit 2 Mkr. Sveriges lantbruksuniversitet har varit ansvarig genom restvärmekonsortiet SSEC, som har sin hemvist inom SLU.
---
Contact