SLU news
Forest fires can increase the risk for rodent-borne diseases
Published: 31 October 2019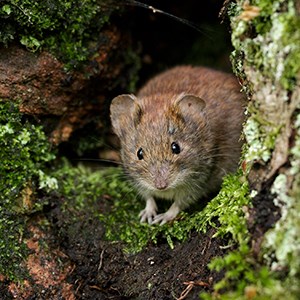 Large forest fires can increase the transmission risk for rodent-borne pathogens, like the virus that causes vole fever (Nephropathia epidemica) in humans. This is the conclusion of research at the Swedish University of Agricultural Sciences (SLU) and Umeå University.
The new study can give a hint about potential consequences of last year's comprehensive forest fires in Sweden regarding rodent-borne diseases. The researchers have in fact studied such consequences as a response to a major forest fire that occurred in northern Sweden in 2006.
"We saw that the proportion of bank voles that host the virus causing Nephropathia epidemica in humans increased as a result of the fire," says Frauke Ecke, project leader and senior researcher at the Department of Wildlife, Fish, and Environmental Studies, SLU.
The result indicates an increased infection risk for people residing in the fire area and that get in contact with the voles' feces and urine.
The researchers have studied the small mammal composition, different environmental variables and the occurrence of the virus in bank voles 1-4 years and nine years after the fire. The only small mammals that the researchers found after the first postfire year were bank voles that are the only host for the virus, despite other small mammals occurring in the landscape.
"The cause of the high proportion of infected bank voles in the fire area is likely the low biodiversity among small mammals, which in turn increases infection risk among bank voles," explains Frauke Ecke.
The total number of bank voles was lower in the fire area compared to unburnt forest. However, the infection risk for people visiting the fire area and getting in contact with feces or urine of the voles is higher in the fire due to the high proportion of infected voles. These results give reasons for caution among the public and especially among occupational groups that work with handling of timber or that reforest the burnt forest areas.
Contact
Frauke Ecke, Senior Lecturer
Department of Wildlife, Fish and Environmental Studies
Swedish University of Agricultural Sciences
+46 (0)70-26 36 155, Frauke.Ecke@slu.se
https://www.slu.se/en/ew-cv/frauke-ecke/
Hussein Khalil, Researcher
Department of Wildlife, Fish and Environmental Studies
Swedish University of Agricultural Sciences
+46 (0)90-786 82 90, Hussein.Khalil@slu.se
Scientific publication
Frauke Ecke, Seyed Alireza Nematollahi Mahani, Magnus Evander, Birger Hörnfeldt & Hussein Khalil. Wildfire‐induced short‐term changes in a small mammal community increase prevalence of a zoonotic pathogen? Ecology and Evolution. 2019;00:1–12. https://doi.org/10.1002/ece3.5688
Press images
(May be published without charge in articles about this press release, please acknowledge the photographer)

Bank vole. Photo: Hanna Knutsson
Frauke Ecke. Photo: Susanna Bergström, SLU
---
Contact