Scientists issue a warning: Natural hazards threaten pollinators and pollination
Published: 24 October 2019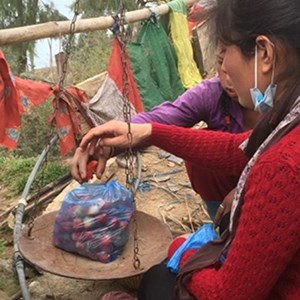 There is growing awareness of human-related threats to pollinators, but we must also consider the threats that natural hazards and extreme weather can pose - not least because such phenomena are set to become more common in our future climate. This is the message of two researchers who have reviewed the literature available in the field. In general, such disturbances in nature appear to be negative for pollinators, although there are exceptions.
A first critical overview of the threats that natural hazards pose to pollinators and pollination has recently been published. Dr Charlie Nicolson from the University of Vermont/UC Davis and Dr Paul Egan from the Swedish University of Agricultural Sciences (SLU) have reviewed 117 studies in this field and share their conclusions in an article in Global Change Biology.
"Today there is growing awareness of the fact that pollinators are threatened by indiscriminate use of pesticides and loss of suitable habitat. However, knowledge surrounding the threats that natural hazards and extreme weather can pose has until now remained fragmented. Yet many of these threats are already starting to become more severe under climate change", says Charlie Nicolson.
"Our study can be viewed as a wake-up call to scientists and policy makers", says Paul Egan, researcher at the Department of Plant Protection Biology at SLU in Alnarp. "We need more research on how pollinators are affected by natural hazards and a better basis for decision-making in nature conservation and disaster risk reduction. And for this we need to know what it takes to protect the diversity of pollinators, to secure pollination for wild plants, crops, and human livelihoods."
Heat waves, drought, fire, flooding, hurricanes, volcanic eruptions and tsunamis are examples of extreme events and weather that can have a major immediate impact on people's lives. In addition, they can affect us indirectly, through drastic effects on ecosystems and the services they provide, such as pollination.
A clear pattern that the researchers saw in their review of the 117 studies was that flooding, drought and extreme heat have a mainly negative impact on pollinators and pollination. In the case of hurricanes, but especially fires, the results were more mixed, and a more thorough analysis revealed mainly beneficial effects for bee abundance and species richness.
Lead author Dr. Charlie Nicolson recounts his experience scrutinizing this literature, which required "poring over many accounts of the powerful destructive force of nature, but also searching for some pretty peculiar hazards such as solar flares, or the Earth's electromagnetic effect on pollinators".
The frequency and intensity of floods and storms is in particular set to increase under climate change. Senior author Dr. Paul Egan here expresses concern: "we see that this type of pollination research is strongly biased towards economically-developed regions, whereas it is smallholder farmers and developing countries that will bear the largest impacts, especially because agricultural dependence on pollinators here tends to be higher".
Future research priorities also identified by the authors include the need to incorporate more "shock" events in climate change research, as well as for studies to better characterise and contextualise the links between pollinator, crop, and human exposure to natural hazards.
More information
Paul Egan, researcher
Department of Plant Protection Biology
Swedish University of Agricultural Sciences, Alnarp
paul.egan@slu.se
https://www.slu.se/en/ew-cv/paul-egan/
Charlie C. Nicholson, postdoc
ccnicholson@ucdavis.edu
https://williamslab.ucdavis.edu
Interactive map
An interactive global map of all studies can be seen here. (html, opens in new window)
The article
Charlie C. Nicholson & Paul A. Egan (2019). Natural hazard threats to pollinators and pollination. Global Change Biology, DOI: 10.1111/gcb.14840.
https://onlinelibrary.wiley.com/doi/abs/10.1111/gcb.14840
Press image
(May be published without charge in articles about this press release, please acknowledge the photographer)
Sale of strawberry, a highly pollinator-dependant crop, by a smallholder farmer in Nepal; a livelihood that could be at increasing risk from natural hazard exposure under climate change. Photo credit: Paul Egan
---
Contact